From casual monthly happy hours to sustainable tourism development conferences, Seattle area networking and business collaborations are thriving.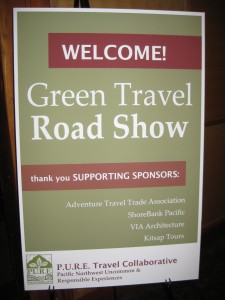 In the last week of October, a regional group of sustainable tourism businesses gathered at Willows Lodge in Woodinville, Washington for the 2010 P.U.R.E. Green Travel Road Show. The second assembly in as many years saw tour operators, CVBs, hoteliers and consultants engage in discussions on marketing, social media, inbound tourism demographics, and innovative ways to collaborate.
The event kicked off with a Voluntourism activity to aid the decade-long Sammamish Re-Leaf project, benefitting a recreational path near the lodge. Featured speakers included Ralph Fascitelli, Specialist in New Media Travel & Destination Marketing; Molly Philips, Manager of Corporate Social Responsibility at Pan Pacific Hotel Seattle; Liz Banse, Associate Director of Resource Media; and Tammy Guill, International and Domestic Travel Trade Manager for the Washington State Tourism Office. Overall, the keynotes and panel discussions on targeting one's audience, cost-effective marketing, and strategies for environmental and social business improvements were educational and allowed space for creative collaboration among the entrepreneurial businesses and regional tourism organizations present.
A membership-driven regional alliance, P.U.R.E stands for "Pacific Northwest Uncommon Responsible Explorations." Their mission as stated during the informational session at the conference is to shape and promote the Pacific Northwest as a sustainable and experiential travel destination.
"While attending past Adventure Travel World Summits, I witnessed how successful tourism businesses shared resources and marketing dollars to promote their brands and regions, and I saw the value that that kind of collaboration could bring to our community," says Jake Haupert, Vice President of the P.U.R.E. Travel Collaborative and founder of EverGreen Escapes, a Washington and Oregon-based tour operator. "Sustainability in tourism is such a fundamental part of what we strive for in this region, that it was natural to combine the two themes into our one mission."
With drastic budget cuts to Washington State Tourism (among other states), and support from organizations like the Adventure Travel Trade Association and Sustainable Travel International, the P.U.R.E. Travel Collaborative has the potential to lead the way in regional business alliances and sustainability efforts.
Immediately following the closing session of the Green Travel Road Show was the monthly networking event, AdventureDrinks. Steadily growing in popularity among the professional adventure and outdoor industry community, and organized by Seattle-based ATTA members, this month's gathering featured a lively discussion with sustainable business consultant and expert, Kevin Wilhelm. Offering some insight from his book Return on Sustainability, Wilhelm relayed how companies in the adventure tourism sector can improve their financial, brand and sustainability performance…from reducing carbon footprints to social responsibility programs including employee "ski days" when the slopes are particularly enticing.