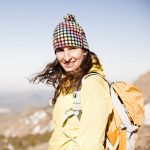 Creatives, activists, and visionaries from across the globe shared their expertise and passion with Adventure Travel World Summit delegates through an array of unconventional outdoor sessions — more than any prior Summit. Each offered a unique immersion into Sweden's close-to-nature lifestyle and inspired participants to embrace new ways of communicating, thinking, and perceiving the world. These sessions, which ranged from a workshop on filmmaking for social media to kayaking along Gothenburg's historic moat, offered networking opportunities and motivated community members to embrace innovations that will accelerate the betterment of travel worldwide.
Here are a few highlights:
Plogging (aka Plogga)
"The idea is simple: See trash, pick it up. Everybody can be a hero," said plogging founder Erik Ahlström, who began the eco-fitness craze turned worldwide movement just three years ago. Derived from the Swedish words plocka ("pick up") and jogga ("jog"), plogging (also known as plogga) marries two things many Summit delegates are passionate about: physical activity and environmental stewardship.
A group of us gathered to take a short plogging tour around Gothenburg, but before we headed out, Ahlstrom asked us to take off our shoes and walk around barefoot. During this barefoot mini-lecture, he explained that everything is connected — the foot, the body, the mind, nature, and our environment. Littering and our general disregard for the planet is getting worse partially because we are disconnected from each other and from nature, he said. By improving our fifth sense — touch — and reconnecting with the earth, we can change the mindset that it's okay to litter.
With this in mind, we descended on Gothenburg, cowbells clanging, hooting, and hollering as we jogged and dropped a knee into a deep lunge (the proper plogging technique) each time we saw a piece of trash. A hubcap in the river took teamwork to rescue. Spontaneous mini-sprint races broke out when two ploggers noticed a piece of trash at the same time.
An hour later, we returned, trash bags overflowing, laughing, no longer strangers, and so focused on our mission we didn't even notice we'd been breathing hard, sweating, or burning calories. It's certainly the most fun I've had running in a long time — or maybe ever.
Climate Action Walk and Talk
"Overwhelmed." "Informed." "Children." "Daunting." "Fight mode, not flight mode." "Taking action."
Each of us — tour operators, media members, guides, travel agents, and tourism board representatives from around the world — shared a word or phrase representing how we felt about the climate crisis. So began the Climate Action Walk and Talk session.
Stephen Taranto, director of programs from Sendas Altas and La Paz on Foot, knows the emotionally charged topic of climate change can be difficult to talk about in meaningful ways so he developed this interactive workshop to help. We spent the next 90 minutes sharing our experiences and practicing techniques that allow us to "start conversations we may not be ready to have, but need to be had in ways that don't overwhelm, shame, or depress," Taranto said.
Through games, storytelling techniques, role playing, and discussion, Taranto invited us to talk about deep issues in a fun, light manner and practice ways to initiate conversations that will ideally lead to action. In a game that mimicked musical chairs, we examined and prioritized our most important values, and we practiced using personal stories to talk about what climate change looks and feels like in reality. Taranto invited us to role play complicated scenarios of potential real-life situations we might encounter in our work, and we grappled with ways to address the diverse opinions and perspectives travelers may have.
Despite the fact we come from all corners of the world, conversation flowed easily as we shared common concerns, even examining our own behaviors. What became clear was this: Climate change is a complicated issue, and learning how to address it is one of the first steps toward mitigating it.
Street Wisdom
Imagine opening up to the environment around you, employing all your senses, and realizing that the answers you seek are everywhere. This is what happens during Street Wisdom, a guided and immersive urban walk based on the simple, yet powerful, theory that the environment and people around us are full of wisdom largely overlooked or ignored. "When we tap into the into the latent wisdom of the streets, magic happens and we can get answers to burning questions," explained travel writer and "Street Wizard" Anja Mutic, who led the Street Wisdom sessions. This was the second year Street Wisdom was made available to Summit delegates.
First, Mutic offered us different prompts to ponder on 10-minute walks, allowing us to tune up and tap into our intuition and senses. Then, with a bigger question of our own choosing in mind, we headed out on an hour-long solo walk seeking clues, signs, and answers that presented themselves. We then gathered to discuss.
The results? Magic, indeed. Our questions ran the gamut — career doubts, life decisions, relationship choices — but our experiences were similar. When we stepped out of life and examined it, we were able to challenge ordinary thinking, shift our perceptions of reality, and notice that everything around us is a story. Some people found clear answers; others just an inkling about the direction they should go. Regardless, we all returned home with another tool for discovering magic in our day-to-day lives.