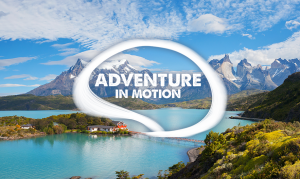 The Adventure Travel Trade Association (ATTA) is proud to present the second year of the Adventure in Motion short film competition. Tourism organizations and businesses with short films created in the last year that inspire viewers to experience adventure travel are encouraged to enter the contest.
"Recognizing the creative efforts of the adventure travel community — especially those who are able to tell their stories with emotional impact — is important," said ATTA's VP of Marketing & Communication Casey Hanisko. "This year we wanted to give the power of the vote directly to the traveler. If they are moved to laugh, to care, to reflect, to even cry or just say 'wow' that means that destination or operator or storyteller has created a moment. We want the industry to learn from others who do that well."
In 2014, the ATTA hosted the inaugural Adventure in Motion film competition and screened the finalists at the Adventure Travel World Summit in Ireland. The two winners, voted on by the audience, were "Pride of Namibia" from World Wildlife Fund and "Reconsider South Africa" from South African Tourism. This year's contest will be hosted on Adventure.Travel, a website for travelers powered by the ATTA community. Visitors to Adventure.Travel will vote on their favorite film directly on the website.
The contest runs from August 4 – September 8, 2015. Films can be submitted beginning today, July 22. The winner will receive a one-year ATTA membership and a ticket to the 2016 Adventure Travel World Summit, where their film will be shown to the entire delegation. In addition their film will be showcased on Adventure.Travel, featured in AdventureTravelNews and emailed to over 100,000 travelers. The winner will be confirmed by September 15. Runner-up films may also be showcased during the Adventure Travel World Summit as well as on Adventure.Travel.
In order to be considered, films should have been made/produced after January 1, 2014 and have a maximum run-time of five total minutes (including titles and credits). Contest entries should be hosted on YouTube. Contestants are encouraged to share their entry on social media, especially Facebook. Facebook likes will be counted as votes. More details about social media sharing and voting is on the Adventure in Motion webpage.
If you are interested in entering a film in the contest or in watching and voting on the films, please visit the Adventure in Motion webpage.