The Adventure Travel World Summit is a platform for pushing boundaries, creating movements and propelling the industry toward a sustainable future. The keynote sessions at this year's Summit will put the spotlight on going big and being bold while maintaining the importance of integrity, while our concurrent sessions will be grouped into four tracks — each catered to different business models. Delegates can choose the track that best meets their organization's goals and interests or mix and match sessions from different tracks.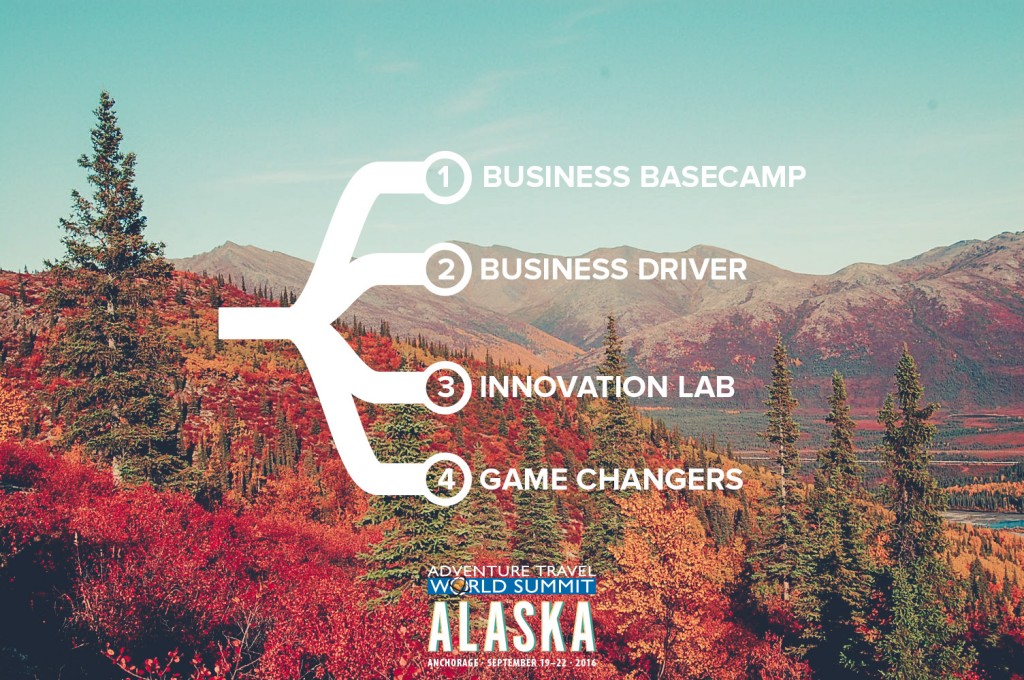 Track 1 – Business Basecamp: Foundational building blocks for adventure businesses
Educational content includes two sessions on "Working with Travel Agents," "Customer Relationship Management Tools" with Scott Friesen and a session from the instructors of our first Adventure Travel Guide Training in Nepal.
Track 2 – Business Driver: Deep dives for organizations transforming their business strategies
This track starts out with Moe Carrick presenting "Leading Through Change Starts with Character" followed by a panel discussion on Adventure Capital. Also included in this track is "Personalized Marketing + Increased Sales: The Power of CRM and Booking Engines."
Track 3 – Innovation Lab: Inspiration for something new and different
Three sessions in this track provide tactics as well as examples for organizations interested in being truly innovative: "The Transformational Power of Adventure Travel," "Pathways to Innovation: Destination Branding Through Regional Routes & Trails" and "The Evolution of the Tour Operator: Your Brand, Your Experience."
Track 4 – Game Changers: For challenging the status quo and making waves
Three in-depth concurrent sessions make up this track: "Destination Game Changer – Adventure by Design" led by the ATTA's Director for Latin America Antonio del Rosal, "Strength in Tradition: Supporting Indigenous Operators and Communities" (speakers to be announced), and "Building a Culture of Accountability" with The Accountability Lab's Blair Glencorse.
Concurrent sessions within tracks will be repeated so delegates have an opportunity to experience multiple topics they are interested in during the conference. In addition to the keynote sessions and those listed in the tracks, MARKETPLACE will take place on Tuesday, September 20 and MediaConnect will take place on Wednesday, September 21.
See the full agenda for the 2016 Adventure Travel World Summit