Helps launch two new adventure tour receptive companies selling unique travel experiences to global tour operators, incentive houses and more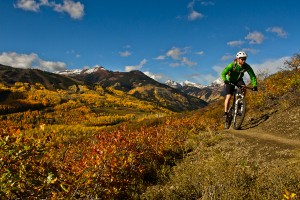 Snowmass, CO – Snowmass is partnering with other mountain towns of Colorado in order to offer the best in adventure travel within the Rocky Mountains; connecting the Colorado adventure dots, so to speak.  The Snowmass Tourism office is helping with the development of two adventure-travel oriented tour operator companies that will sell unique experiences directly to global tour operators, incentive houses and other travel-related companies.  The two companies, Ursus Adventures and Mountain Travel Logistics, will feature itineraries that span a number of the different great mountain towns of Colorado covering 10 different regions in the state.
"The main focus of these new receptive operator companies is to sell adventure travel in a business to business concept, making the Colorado mountain town and adventure experiences easier for the traveling public to access," said Fred Brodsky, Group Sales Director at Snowmass Tourism.  "The activities range from soft to hard adventure, and include cultural and agritourism type experiences to off the beaten path locations, all developed with local know-how and insight."
One of the companies, Ursus Adventures, offers fully-guided, full service itineraries that are specifically geared to appeal to the global tour operators.  The itineraries feature daily adventure-based activities, cultural happenings, and unique culinary opportunities and are fully customizable for a particular client.  Ursus Adventures customizes itineraries that are individually curated to fit each tour operator's need.  The unique programming includes adventures for everyone from the outdoor newbie to the seasoned mountaineer, as well as unique experiences that highlight the lesser known agritourism and cultural offerings of the Colorado Rockies.  Ursus is owned and operative by longtime locals who also run the local 40-year-old whitewater rafting and outdoor adventure company, Blazing Adventures, headquartered in Snowmass.
Mountain Travel Logistics (MTL), is owned and operated by a Colorado native and long-time adventure traveler and mountaineer.  MTL was established to service the fly and drive market by taking care of every logistical detail from luggage transfers to bike rentals to trail maps.  MTL's unique programming highlights the best of the Colorado's off-the-beaten path activities.  Cultural activities include experiencing Colorado's rich mining history, ghost towns, rodeos and the Wild West.  Agritourism activities allow visitors to experience Colorado farms, orchards, ranches and wineries.
Activities for both adventure websites include trekking/hiking, mountain biking, road biking, rafting, horseback riding, fly-fishing and more.  The Colorado regions include Southwest Colorado, Silverton, Ouray and Telluride; Estes Park and the Rocky Mountain National Park; the border of Utah and Colorado, including Grand Junction, Palisade and Paonia; Winter Park, Crested Butte and the Roaring Fork and Crystal River valleys including Snowmass and Glenwood Springs, along with Marble and Redstone.
Contributing members are responsible for the accuracy of content contributed to the Member News section of AdventureTravelNews.