AdventureSmith Explorations' Todd Smith, founder and president, recalls when privately chartered yachts and fishing boats were the only way – aside from the traditional cruise ship – to take a vacation at sea.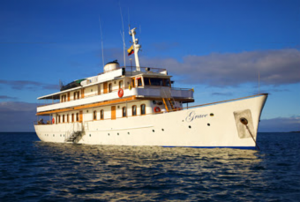 In 2003, this company leapt into uncharted waters and began securing a legacy for today's small ship cruise industry. Categorized by guest capacity, the experts at AdventureSmith Explorations have defined three vessel options to choose from: "adventure yachts" accommodating 8 to 40 guests, "expedition ships" for 41 to 200 passengers and "traditional cruise ships" for vessels with larger capacities above 200 passengers and reaching up to 5,000+. Each has its advantages and limitations.
"The number of passengers a ship carries relates directly to the experiences a client seeks," Smith says. "Vacationers who prefer resorts over boutique hotels prefer large cruise ships. Those underwhelmed at the thought of embarking from mega-hub ports to dine and lodge on floating resorts with Las Vegas-style entertainment may prefer an adventure yacht or expedition ship."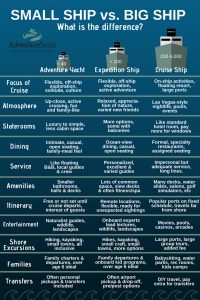 AdventureSmith Explorations capitalizes on another key difference between large and small vessels. The hull of a large ship precludes it from entering smaller ports of call and anchorages, thus curtailing off-the-beaten-path cultural forays and up-close explorations of flora and fauna along remote shorelines that are the specialty of yachts and expedition ships.
When fine-tuning a reservation, AdventureSmith Explorations' staff focus on traveler preferences to recommend which small ship to choose. Some travelers may be most comfortable in the intimate, family environment of small adventure yachts, while those seeking more cabin space, private balconies or more varied activity options for their group may want to opt for an expedition ship. On all small ships, notes Smith, the focus of activities connected with smaller vessels exceeds expectations. Keen on adventure, passengers spend most daylight hours off the boat, kayaking, snorkeling and on guided Zodiac and land excursions.
When he started his company, Smith says he didn't envision the dramatic growth in adventure tourism (predicted to grow nearly 50 percent from 2016 to 2020) that would factor into the company's success.
"Our small ships bring people to adventures in wild regions all over the globe. Imagine kayaking in front of massive glaciers and watching whales breach from a small Zodiac. Many of the places that our small ships visit can be logistically challenging, perhaps involving a long hike in or chartering a plane or simply cannot be reached in any other way (e.g. Antarctica). Small ships make access to these incredible locations not only possible but also provide a comfortable bed, hot shower and a nice glass of wine," Smith promises.
Contributing members are responsible for the accuracy of content contributed to the Member News section of AdventureTravelNews.