Give Back to the Galapagos Promotion Ends in Success New Discount Incentives Offered on Select Cruise Dates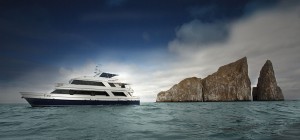 MIAMI – The visionary, small-ship travel company Ecoventura announced that a recent promotion has raised $12,000 to help fund, among other things, a satellite vessel monitoring system to combat illegal commercial fishing operating clandestinely in protected Galapagos waters.
The promotion which ended this week offered guests a 5 percent discount plus the satisfaction of knowing that another 5 percent from the cruise company's pocket went to the Galapagos Marine Biodiversity Fund administered by the World Wildlife Fund.
"Our clients always want to know how they can help our efforts to create a positive level of sustainability for this fragile eco-system called the Galapagos," said Santiago Dunn, president and owner of Ecoventura. "This was a way they for them to benefit twice: once by receiving a rate reduction and once by giving something back to the islands."
Ecoventura helped establish the Galapagos Marine Biodiversity Fund (GMBF) in 2006 in partnership with the World Wildlife Fund to support environmental education and marine conservation by strengthening the local communities' ability to manage natural resources. Dunn's company has pledged a donation of $65,000 annually in support of the fund.
Since GMBF's inception $160,950 in contributions have gone directly to the various projects now in operation including scholarships for local children to study at the University level, development of micro-enterprises to create alternate sources of income and control of illegal fishing activities through a permanent floating station at Darwin Island and the acquisition of a satellite vessel monitoring system.
In place of the Give Back promotion, Ecoventura is now offering straight 10% to 15% discounts on select cruise departures from July 25 through Dec 12, 2010
Contributing members are responsible for the accuracy of content contributed to the Member News section of AdventureTravelNews.