From tea with border officials, to elephant attacks, and blown up bridges, Henry Gold's 15 year career as the founder and Managing Director of TDA Global Cycling has seen him overcome great obstacles. Through each of these harrowing tales, he shares some insights into what he did to get through these difficulties. The tips have a universal element to them that can be applied not only to cycle adventures in rural India, but to the important decisions that business leaders make on a daily basis.
Investing time in a cup of tea, can save you money and time
TDA Global Cycling specializes in long distance tours that cross many international borders. Borders can be time consuming and frustrating places, more so with 40 or more cyclists. The natural instinct of a traveler is to get it over with fast and keep moving forward.
Years ago I brought a group through  Ethiopia/Kenya border and my wallet had gone missing. I spent time in the company of the head honcho – a customs and immigration officer at  the  the border post. We shared a few cups of tea and chatted longer than was necessary.
A few years later at this same border crossing, due to some confusion on his part when he entered the country, one of our cyclists did not have an entry stamp.  The officials insisted he had to go back to the capital city and get the stamp, a huge and costly problem for both of us. I sat around for a while and at one point asked very politely if we can consult his superior. He agreed and took me to his boss. The boss – none other than the head honcho I'd shared tea with – opened the door and said: "Henry, what are you doing here".
Costly and time consuming problem solved!
Telling a story can be better than strategic action
We sometimes cycle in remote areas of the world where permits are required. In Ethiopia I had difficulties getting a permit, and was getting very frustrated. I was sitting in the office with the highest ranking official I could find and he kept saying that there is nothing he could do. I started telling him my fascination with Ethiopia starting at the age of nine when I received an autograph of the country's premier sporting hero – Abebe Bikila – who later died tragically, the first African to win a gold medal at an Olympics – running barefoot. The official suddenly interrupted: "you met him"? I nodded. The mood of the conversation quickly shifted, and the permit was received the next day!
Ask and then ask again and again – the new information could be critical
Before you go to a new place you, no matter how many countries you have visited before, ask questions and then ask again about potential hazards. We were cycling in India in a forested area in between two national parks. The group was way ahead of me when all of a sudden on a quiet country road a livid elephant charged me. I tried to escape but the elephant caught up with me and managed to break several bones (a story I later shared with the Globe and Mail newspaper). I had no idea there would be elephants in the area. Having that info would help me avoid that danger zone. I am lucky to be alive.
To lead successfully you do not need to have immediate answers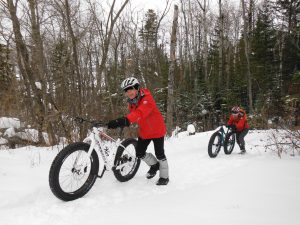 Being on a bicycle tour in a country that is recovering from civil war is not for everyone. Even for those who think of themselves as able to deal with stress. Panic can take over a group quickly with potential serious consequences that can be more dangerous than the event itself.
A tour leader on our inaugural cycle tour thru Colombia in 2015 had discovered a bridge was blown up overnight on the route our cyclists were due to cross within just a few hours. At this stage 45 riders were spread over a distance of 20 km with me being the last, far behind. In communication with the tour leader we decided to reverse the riders and gather the group together. The cyclists returned one by one, some already near panic. Though not having any immediate answers or plans, we decided quickly to call a meeting, explain the situation, indicate options we are investigating and deal with the anxiety. We then continued with regular briefings as we gathered information, assessed options and reassured the group that we are not in any immediate danger.
By these actions we kept the group unified, preempted rumors and possible impulsive actions that could endanger individual cyclists and even the whole group.
Expect the unexpected – it can save your business and your life
I was driving on a newly paved road, and feeling a bit irritated with my companion. Coming out of a curve with the road sloping down, the car was going faster than it should. Just then I saw a giant pot hole. I tried to slow the vehicle down, but the car entered the pothole, did a 180 degree turn, hit the railing of the bridge, and did another 360 degree – this time in the air and into a river.
Both my companion and I were unhurt but I sure learned a hard lesson, and I was not in a hurry anymore. With no pothole we would have been fine, but I sure was not prepared for a pothole, a child, an animal on the road or a stalled truck – all a possibility everywhere, but especially in unknown places.
Good intentions can also lead you to a disaster
I was driving in the Nubian Desert in Sudan and had two flat tires that day already. With no air conditioning and temperatures soaring I had another flat. I got out and started replacing the tire with my last spare. A couple of locals showed up and insisted on taking the wrench out of my hand. They pointed to a shade under a lonely tree and – charmed – I accepted.
A few minutes later they waved me back. The car was ready. I looked around, thought that maybe it would be a good idea to check the bolts, but with the heat, and not wishing to appear ungrateful I convinced myself that all was good. I took off.  Ten minutes later, I experienced a weird sensation.. Out of the corner of my eye, I saw a car wheel roll in front of my vehicle and then the noise of the car hitting the road Sudanese hospitality is famous, but my reluctance to seem ungrateful could have ended much worse.
Contributing members are responsible for the accuracy of content contributed to the Member News section of AdventureTravelNews.