Banff and Lake Louise Demonstrate Why "Off-Season" Can Be Spot On
In June 2018, The Banff Center in Alberta, Canada, hosted 285 adventure travel industry members at AdventureELEVATE, the industry's flagship North American event. Building on the energy and momentum of that event, Banff and Lake Louise Tourism and Travel Alberta recently invited a small group of international tour operators, travel journalists, and influencer/bloggers from six countries to experience Banff National Park during the first-ever AdventureWeek held in North America, facilitated by the Adventure Travel Trade Association (ATTA).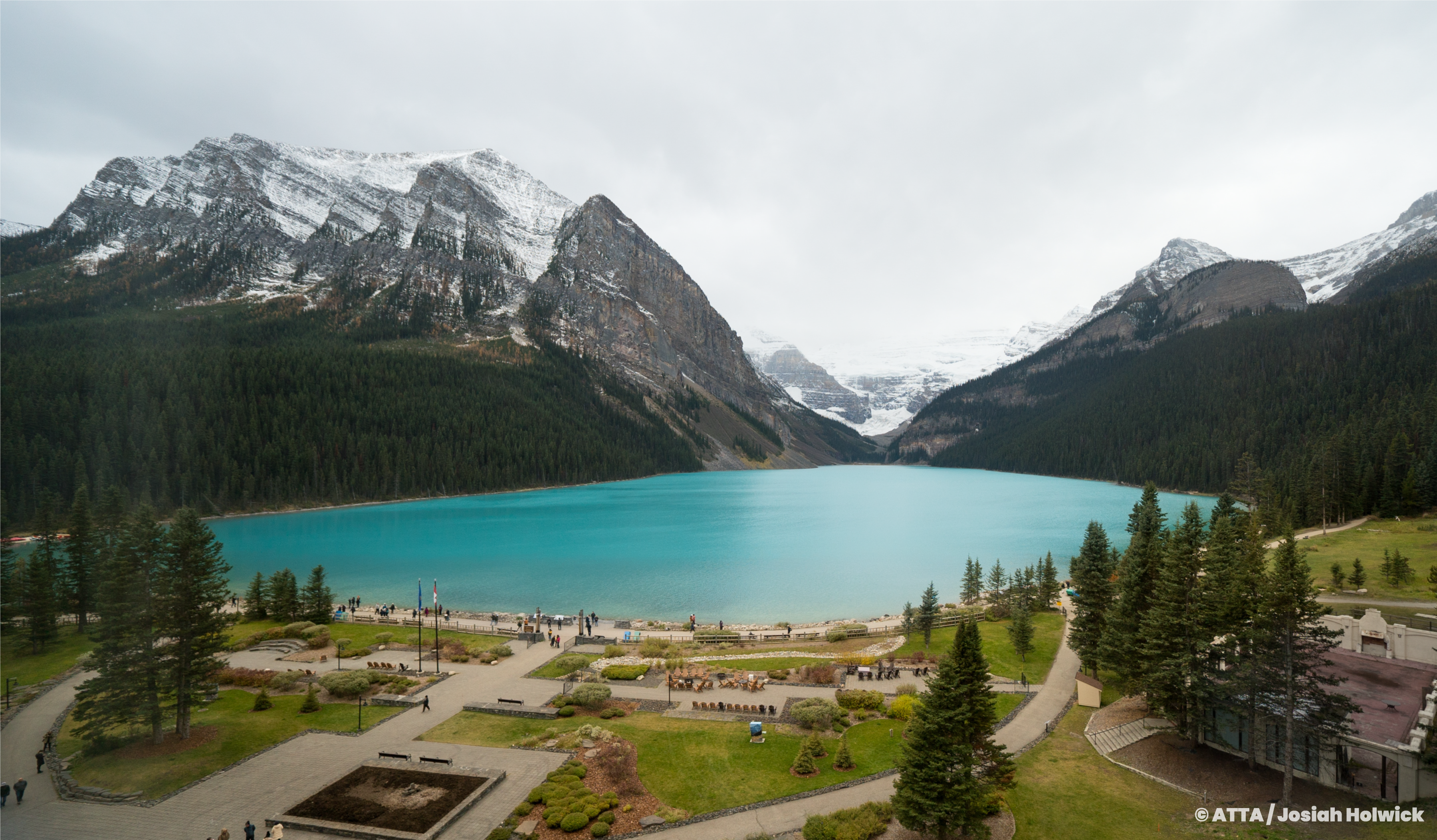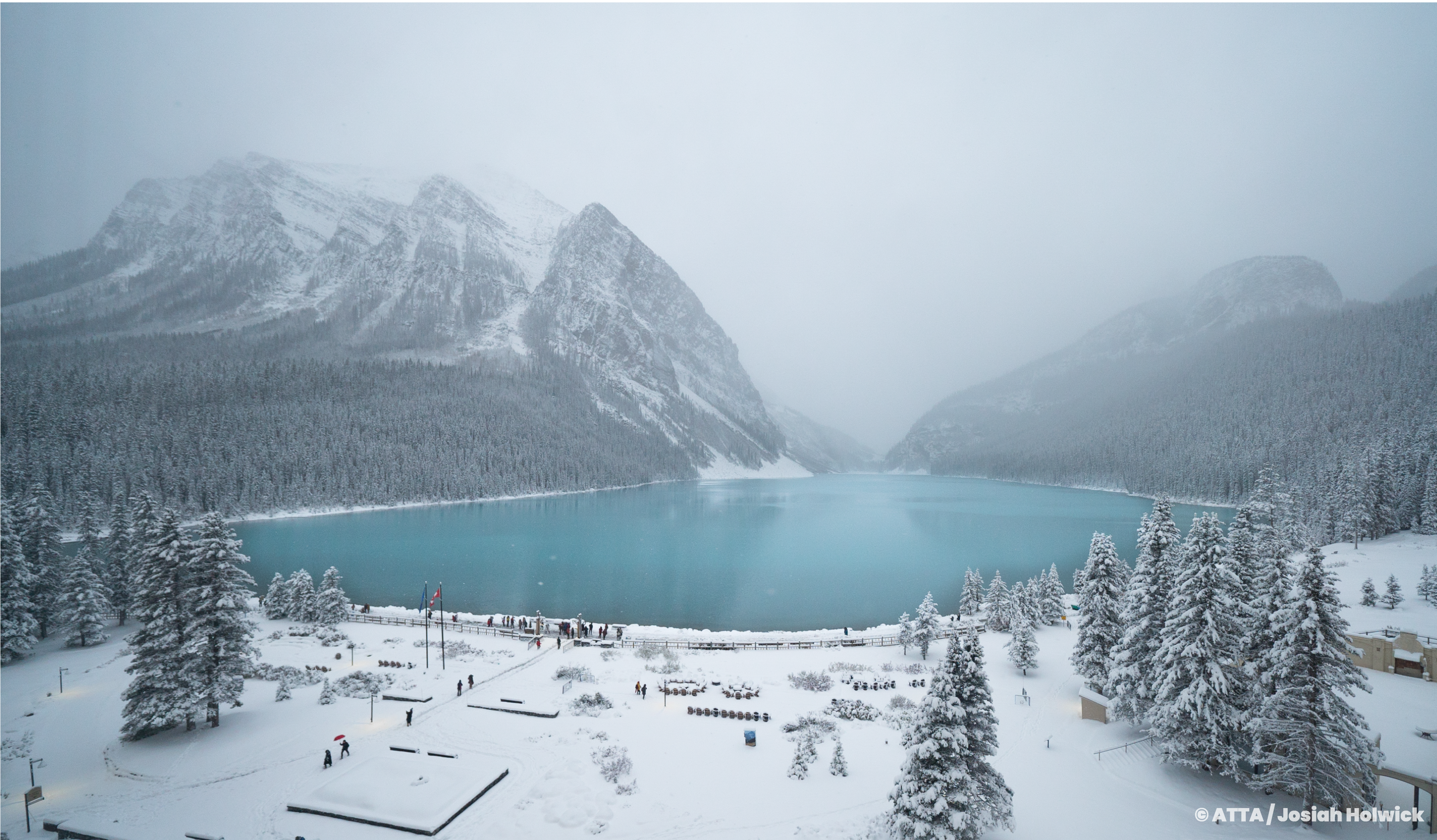 The difference a night makes. Banff's changeable mountain weather can serve up multiple seasons in a day, making it an ideal destination for spontaneous, open-minded travelers.
Renowned as a must-visit destination for summer visitors and winter recreationalists, Banff National Park proves equally magnificent at any time of year. The purpose of this AdventureWeek was to explore a quieter season of the region — the "shoulder" or "off" season, as it's known — and experience the fiery larch forests and golden-shaded mountains of autumn in the tranquility of a slower time.
The group arrived in early October under brilliantly clear skies studded by snow-capped peaks that rose above turquoise, glacier-fed lakes. Ready to sample everything these stunning Canadian Rockies had to offer, we divided into two differently themed itineraries, Connect and Immerse.
Connect focused on local culture, artisanal foods and easily accessible outdoor experiences; Immerse delved deep into the expansive backcountry in and around Banff and Lake Louise. Both itineraries included a wide variety of accommodations in the region, ranging from trendy, in-town suites to the simple charms of Baker Creek Mountain Resort and the splendor of the Fairmont Chateau Lake Louise and the Fairmont Banff Springs Hotel.
As anyone in the travel biz knows, FAM (familiarization) trips don't just happen, particularly when you're hosting more than 25 experts on two separate activity-packed itineraries over the course of seven days. AdventureWeek had taken five months of planning and preparation — meals, guides, activities, accommodations, hundreds of details to provide just the right balance of adventure, culture, and warm Canadian hospitality.
Still, the best laid plans can be scuppered by Mother Nature and AdventureWeek was not immune. We had just arrived and settled in when the weather turned and dumped more than 18 inches of early-season snow on the region, blanketing the trails, pathways, and forests in white. Local road closures and travel delays followed, impeding our ability to get around and follow our originally planned itineraries. Undeterred, our hosts calmly and professionally worked with their local suppliers to rearrange activities and itineraries, and AdventureWeek Banff and Lake Louise did not disappoint. In fact, anything but. Moraine Lake, the Cave and Basin, fireside treats beside Baker Creek after a magnificent hike on Sulphur Mountain, Lake Agnes and the Lake Agnes Teahouse, the Big Beehive hike, caving, via ferrata, heli-hiking, and of course wonderful meals each day with our fellow adventurers.
"We set out trying to showcase the incredible experiences travellers can have here in a typically quieter time of year, and that we did, but we also ended up with emotion, awe, and honestly one of the most memorable trips I think any of us ever participated in."

– Angela Anderson, Director, Media & Communications, Banff & Lake Louise Tourism
After four full days of discovery, camaraderie and learning, the two groups came together at the elegant Fairmont Banff Springs Hotel for a traditional B-2-B marketplace, where the media and tour operators met with an expanded selection of regional suppliers representing the spectrum of accommodations, activities and experiences available to visitors.
Banff and Lake Louise has food to match its scenery. The local culinary and dining scene is a point of pride for locals.
As impressive as the scenery and hospitality are in Banff and Lake Louise, as an adventure tourism industry veteran, I have to say it was equally impressive to watch a team of top-notch professionals play the hand they'd been dealt and subtly work with transportation partners, suppliers and accommodations to rearrange schedules and provide a first-class visit for their invited guests. The unexpected "off-season" delight of snow and spontaneity showcased how a destination might shift and adapt in the best possible way, welcoming their visitors any time of year with care, creativity, and hospitality.