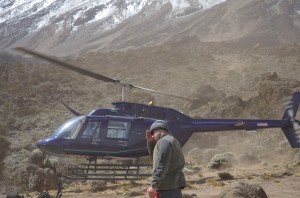 Ripcord travel insurance recently secured the first ever corporate partnership with Adventure.com, an online platform that connects Adventure providers with people who are interested in booking their next adventure experience.
"We couldn't be more excited to partner with Adventure.com. As one of the most influential players in the adventure travel world, they've fostered an exciting global community of adventure seekers. We look forward to supporting the Adventure.com community, to allow them to follow their passions and gain meaningful travel experiences without worry," said Tom Bochnowski, Vice President, Redpoint Resolutions.
Ripcord, the travel insurance program provided by Repoint Resolutions, will sponsor select, curated content items on Adventure.com. The two brands will also collaborate on content sharing, co-promotions, and other integrated marketing opportunities.
Redpoint is an elite team of special operations veterans, Stanford Medicine affiliated physicians, paramedics, nurses and risk experts available 24 hours a day, 7 days a week. Ripcord is Redpoint's one-stop comprehensive travel protection umbrella product that combines elite evacuations and rescue services with the fully insured benefits of traditional travel insurance.
Noted Travis Snelling, Adventure.com Vice President, "Our community of adventure providers and seekers is our number one priority. Everything we do needs to positively impact our community with the highest amount of value possible, which is why partnering with Ripcord makes so much sense. From soft adventure to more extreme, high adrenaline stuff, our community now benefits from access to unprecedented travel insurance."
Travis noted that the Adventure.com site even includes, as one example, a 60-day trek through the Gobi Desert – and that Ripcord will be able to cover travelers that sign on for even remote adventures such as this trek.
"We're extremely excited to welcome Ripcord as Adventure.com's first corporate partner," said Chris Chesak, Director of Partnerships for Adventure.com. "We bring adventurers the very best curated adventure experience from around the globe together in one place. And it certainly made sense then that our first corporate partner would be a service that can provide peace of mind to our community members – not to mention actually rescue them, no matter the situation, during their trips."
Recently Redpoint executives were instrumental in the evacuation of a climber with altitude sickness off Mount Kilimanjaro.
"Tom Bochnowski [Redpoint VP] joined me on our recent Kilimanjaro Climb for Valor. During this climb two of our climbers suffered high altitude emergencies. Tom worked hand in hand with me to ensure the successful helicopter evacuation of the two climbers. Redpoint's Stanford Medicine-affiliated physician Avi Patil, who was also climbing with us, assisted me with critical medical decisions that helped prevent a bad outcome."
– Eddie Frank, Tusker Trail
Contributing members are responsible for the accuracy of content contributed to the Member News section of AdventureTravelNews.