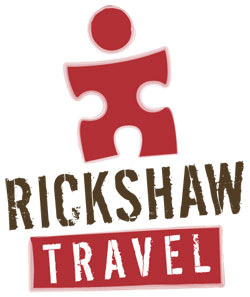 Here at Rickshaw Travel, we believe in giving you an honest, real experience of your destination. This is at the heart of everything we do. We strive to provide not just holidays, but enriching life experiences that bring you closer to the country you have chosen to visit.
It's all about people from the word 'go'. Our destination specialists (who really are specialists!) will give you very down-to-earth advice about your itinerary. Each and every one of them has expert knowledge and a huge passion for the places they sell. We'll really listen to your needs in order to build you a trip that has the right pace and balance for you. This means that you're free to travel in your own personal way.
We want to help you really get inside your destination, so we'll provide some unique opportunities that will give your trip a local twist. You can visit the quirky 'train market' in Bangkok, try your hand at traditional Batik in Malaysia and even stay with a local family on Lake Titicaca in Peru. These experiences are all designed to bring you into contact with real local people, and we use local guides on all of our organised activities.
During your trip, we'll arrange for you to stay in an interesting mix of friendly accommodation with lots of local character; from floating lake huts to desert camps, palaces and beach bungalows. Wherever possible, these are locally owned and will give you a chance to get a true feel for local hospitality. You can also travel on public transport while you're away, giving you a chance to do as the locals do.
Rickshaw Travel is born from the idea that there are very few travel options available. So, if you're looking for an authentic travel experience and you don't want to be herded like cattle from place to place, we provide the perfect solution. Our trips are designed for travellers who like to travel the way that we do; independently, with the freedom to explore the world your own way, at your own pace. More than anything, we want you to enjoy your trip in a straight-forward worry-free way. Our dedicated Travel Specialists will arrange all of your accommodation, tours and transfers in advance and we'll give you a 24 hour number for our local partners in your destination. This way, you can set off on a really varied, cultural adventure with total confidence. It's adventure with a safety net – and we think it's the best of both worlds.
We're a small, independent online tour operator and our lovely offices (together with spectacular sea views) are located in central Brighton & Hove. We offer a whole range of trips across Asia, Africa and Latin America and we're continuously working to improve our tours whilst also researching new and exciting destinations to offer.
We're interested in connecting with the Adventure Travel Community for networking, partnerships and marketing strategy development. Please feel free to contact us at [email protected]
Connect with Rickshaw Travel on ATTA's member online community The HUB