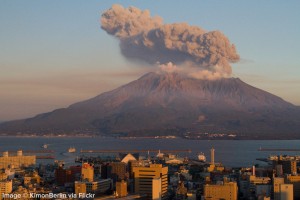 In response to heavy rainfall, high winds and serious floods in the U.K. this winter, VisitEngland created a smart guide for tourism companies for "Responding to Extreme Weather". Whether or not your business is located in (or promotes) a destination prone to flooding, the guide is flexible and adaptable: just replace flooding with wildfire, earthquake, smoking volcano, even disease outbreak. The advice is even good for PR emergencies and the guide has some best practices for good customer service that should be baseline for your business in stormy and clement weather.
The guide makes sure businesses consider customers every step of the way. So, after knowing that you and your employees are safe and accounted for, start thinking about how the event is going to affect business:
1. Assess the Situation: How are you affected directly (are you operational? do you have staff or customers in the field?) and indirectly (is everything else in your area — suppliers, transit, infrastructure — operational?)
2. Working with Others: Who can you work with in your area? Do you share customers, suppliers, mission, location, etc with other organizations or businesses nearby? Can you work together? Often operators can work together with a tourism board or DMO to make sure efforts aren't being duplicated. You can also notify organizations and associations like the ATTA (through networks like the HUB) in order to lean on the travel community when you need support the most.

3. Communicating with your Customers: Respond to your customers' immediate concerns first (are you open? is it safe? should they reschedule?), then work with your local tourism board to craft messages that are appropriate for wider audiences. Be open and transparent about the situation and don't forget to contact prospective clients as well as currently booked ones.

4. Cancellations: Re-visit your terms & conditions and customer contracts and stick to protocol when dealing with cancellations. Have your official policy statements ready (for email, phone calls, social media, traditional press, etc.).

5. Assessing the Future: When things have calmed down a bit and immediate concerns have been addressed, start thinking about how your business will recover. Has an ongoing marketing campaign become inappropriate or non-applicable? Do you need to offer a special promotion to re-coop? Take stock of your finances at this point; you might need to do some reshuffling.

6. Return to Normal: Depending on the severity, this could be days, weeks, months or even years later. Make sure you let your customers know that things are back to normal. Take alerts and temporary status updates off your website. You can even report on how you fared to instill confidence that you are competent even in unexpected situations.
What would you add to this guide as a best practice for operators and destinations dealing with natural disasters? Do you have any experience with dealing with emergencies effectively (or learning from your mistakes)? We'd love for you to share your advice by commenting below.