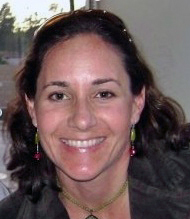 Salt Lake City, UT – Resmark Systems, "Tour Operator Software Created by Tour Operators," announced recently that Kate Tucker has joined the staff to focus on partnership development, Resmark's affiliate program, business development, marketing and sales.
She assumed the position of Director of Sales & Marketing on April 15, said Brandon Lake, Resmark Systems founder.
"Business has been strong and the outlook for the future is even better," noted Lake. "We've experienced a nearly 300 percent increase in revenue since 2010 and we'll look to Kate to help us continue this momentum and attract an even larger percentage of the expanding market."

Well known in the industry, she spent the past seven years as Marketing Director and Client Manager for AdventureFinder.com, a subsidiary of Orbitz Worlwide. Among her many accomplishments was designing and implementing comprehensive online marketing strategies for companies ranging from high-end luxury to start-up brands; transitioning GORPtravel.com from a commission-based sales site to a successful pay-per-click, pay-per-lead email and banner advertising site, AdventureFinder; and growing a consumer subscriber list to over 100K names.
She also worked for GORPtravel from 2001 to 2006, first as a sales agent and then as marketing director.
"My twenty year journey in the adventure travel industry has taken me from guiding trips, to itinerary development to trip sales, marketing and consulting. I've been very fortunate to work with some of the finest companies in the business which now includes Resmark Systems," said Tucker. "The trip sales, reservation, customer profile and marketing interface make it a powerful tool for any small or large volume adventure business owner. I'm very excited to be a part of the Resmark team."
Tucker holds an undergraduate degree in English and Outdoor Education and a Fifth-Year Teaching Certificate, both from the University of Vermont in Burlington, VT.
Contributing members are responsible for the accuracy of content contributed to the Member News section of AdventureTravelNews.