Maple Leaf Adventures received the Remarkable Experience of the Year award from Tourism Vancouver Island this month. The award recognized its Salish Sea expedition cruise, which enriched and transformed the lives of its guests.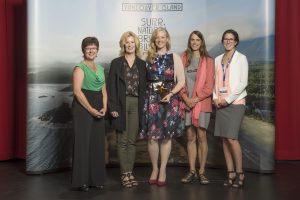 The guests, a couple from California, were inspired by our local islands and the guides, including Penelakut elder Florence James and geographer Dr. Briony Penn, to learn and share more about the cultural history and nature of their own home, near Joshua Tree National Park. They've taken classes from the Agua Caliente band of the Cahuilla Indians, and now volunteer at the national park.
"The definition of a guide is 'one who shows the way'," says Maureen Gordon, one of Maple Leaf Adventures' owners. "For a guide — and we are a company of guides — it is the highest possible honour to receive an award for creating a remarkable experience."
The idea behind the company's 5-day Salish Sea expedition was to transform people's understanding of the place, with a generous elder teaching them Coast Salish names, history, purpose and philosophy of the local islands, juxtaposed with western names and knowledge from a naturalist. This was combined with the usual nature and wildlife guiding, gourmet food, camaraderie and island cruising of a standard trip. It was co-branded with Canadian Geographic, who also supplied an ambassador on the trip.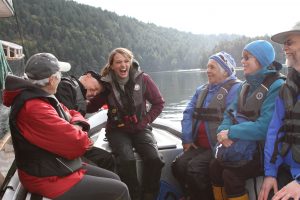 "We are honoured that our guests not only appreciated the beauty of our home, and the spirit and caring of the people, but had an epiphany that lead to a positive change for them when they returned home," says Gordon. "It's the classic hero's journey, a hallmark of transformational adventure travel."
Maple Leaf Adventures has operated small expedition cruises from the Salish Sea to Haida Gwaii, the Great Bear Rainforest and Alaska since 1986. Trips are operated by all-local experts, aboard the classic ships Swell (a converted tugboat) and Maple Leaf (a sailing ship).
An Award Whose Time Has Come
This is an often-overlooked area in awards programs, says Dr. Nancy Arsenault of the Tourism Cafe, sponsor of the award.
"Recognizing the interaction between visitors and their hosts is vital to making emotional connections with guests," she says. "It is surprising that few destinations have an award that celebrates companies that design and deliver remarkable experiences."
"Creating repeat visitation and word of mouth referrals is the most effective way of marketing our destination, which happens organically if we provide our visitors with a remarkable experience at every touch point of their journey." says Dave Petryk, Tourism Vancouver Island's CEO. "Our annual awards recognize those that have gone above and beyond to ensure the visitor's experience exceeds their expectations."
Contributing members are responsible for the accuracy of content contributed to the Member News section of AdventureTravelNews.