Interest in Swedish safaris approaches a record high. Research shows that safari tourism is heading for its best year ever. Swedish tourists are still the most numerous, but a growing number are coming from other countries like Holland and Great Britain. Seal and beaver safari attract mostly Swedes, while elk are the favourite amongst foreign visitors.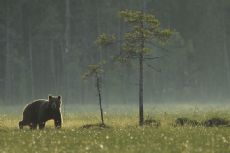 A call to ten of Sweden's premier safari tour operators provided a coherent picture that interest in wildlife in the Swedish countryside is heading towards a new record. In late July, booking statistics pointed to the best season ever in virtually all surveyed companies. These forecasts combined predict nearly 5,000 guests in just the companies surveyed, almost half of which are foreign visitors.
"Interest in bear watching just keeps growing. This year we have extended the season and supplemented it with an additional hide, and all indications are that it will be the best summer ever," says Hans Nordin of Norrigården Vildmark in Hälsingland. Håkan Vargas of Vargas Wilderness Lodge, a pioneer in Swedish bear tourism, agrees: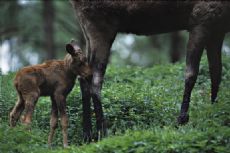 "We have worked with bear watching for almost 15 years, and this looks to be our best summer ever. Among the guests are many wildlife photographers and nature lovers, but also a growing group of ordinary Swedes who are curious about Swedish nature and our predators."
Mikael Nilsson, from Nordic Discovery in the Bergslagen district bears witness not only to more and more guests, but also changing attitudes amongst local residents.
"All time high, and now Swedish safari tourism is met with a completely different respect than when we started ten years ago. Then, it was just safaris with lions in Africa, and they laughed at my ideas about offering elk and beaver tours. This year we expect around 500 guests, half of whom are foreign visitors, and they pay not only for a guided tour but also for accommodation and food."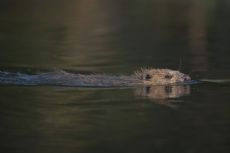 Wild Sweden in Västmanland, celebrating their ten-year anniversary, organizes wolf, elk and beaver safaris for over 700 people every summer. Jan Nordström is one of the company's guides:
"In recent years, interest in beaver has increased considerably and foremost among Swedes. Elk are a tourism magnet for foreign guests, but we have almost no German visitors, instead most are Dutch and English. Last year we set a new record, and this year's summer is likely to be just as good."
Beavers attract not only Swedes but also other nationalities as well. Kerstins Udde Spa & Tourism in Ångermanland has worked successfully for some years with a Swiss travel agent. In Central Europe, both beaver and this year's newest attraction, the otter, are the animals luring nature enthusiasts to Sweden. And, you never know what lies waiting in the woods.
"We often see elk on our beaver safaris. And this year, some of our guests got a bonus experience while paddling when a bear suddenly appeared on the shore," says Anna-Karin Gidlund.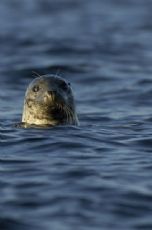 Some guided tours like seal and porpoise safari are sensitive to weather, and rain and wind scare off both animals and visitors.
"July started with bad weather, but the last two weeks have been great," says Staffan Svanberg, whose company Bosmina arranges seal safaris in the archipelago outside Haparanda.
On the west coast, the weather has been better and Helena Lantz of Selin Charter thinks this summer the seal safaris in Koster National Park will attract nearly a thousand people.
"Our tours have been largely fully booked. Most are Swedes and Norwegians, but we also get more and more visitors from Germany and other European countries."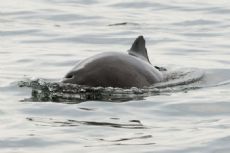 However, Swedish safaris are not only about large mammals. As interest grows the supply broadens, especially in southern Sweden. For example, in Skåne you can find porpoise, catfish and butterfly safaris this summer. Porpoise safaris outside Kullaberg have in only three seasons attracted thousands of visitors, and in July, the number of travellers for whale watching has increased by over 25 per cent compared to the same month last year.
"Our evening tours have been a success. Almost fully booked, nice weather and encounters with porpoises on virtually every tour," says Jacob Schenström of Kullabergsguiderna.
Recently Kuskahusen Gårdshotell even organized the first ecotourism labelled butterfly trek in Sweden, and later this summer the repeated success of last year's catfish safari is predicted in Kristianstad's Vattenrike Biosphere Reserve with ecotourism operator Landskapet JO.
Nature is a strong reason to holiday in Sweden, perhaps the strongest for foreign visitors. In a range of studies and according to the Swedish Agency for Economic and Regional Growth's recent survey, IBIS, Sweden is associated primarily with "experiencing nature, friendliness and sustainability." In the same survey, 14 per cent of foreign visitors said that they wandered in the woods and mountains. This is the same number as those that visited a concert, a cultural or sporting events and/or played golf during their visit to Sweden combined.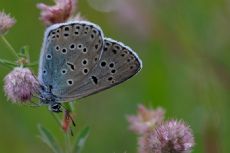 "Swedish safari tourism has developed tremendously over the past ten years. Now, we can see the creation of real jobs for talented nature guides around the country and around a wide range of exciting animal species," says Per Jiborn from the Swedish Ecotourism Society.
"But the tourism industry in general, government agencies and our political parties can do more to strengthen the attractiveness and value of Swedish nature. We want to see more safari tours that are packaged together with comfortable accommodation and local food, and we call for a proper strategy for Swedish nature- and ecotourism. We also believe that it is high time that nature guided tours are included in the cultural VAT, which has long been the case with all zoo and wildlife parks."
"This would benefit guests, Sweden and the entire tourism industry."
Contributing members are responsible for the accuracy of content contributed to the Member News section of AdventureTravelNews.