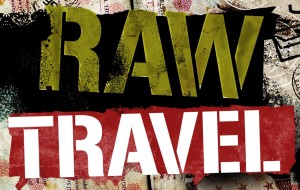 Raw Travel is a rapidly growing, nationally syndicated television series that premiered in October of 2013. The show can currently be seen in the United States on local broadcast affiliates (NBC, CBS, Fox, etc.) in almost 100 cities and in over 80 million U.S. homes representing almost 75% of the U.S. The series can also be viewed in a variety of other countries & territories internationally in 2014.
Visit here to find out where you can see in your hometown.
Raw Travel is unique in that it is independently produced and financed and focuses on socially conscious travel as opposed to pursuing a solely profit motive. It showcases the growing wave of socially and environmentally conscious travel, while celebrating the self-discovery that authentic travel and experience among other cultures can bring. Each show incorporates eco-tourism, voluntourism (traveling volunteers), adventure sports, underground music and culture, food, tradition and much more.
Executive Producer and Host, Robert G. Rose, is a television and marketing veteran who has worked with major fortune 500 marketers (Volkswagen, McDonald's, Anheuser-Busch, General Motors, etc.) and media companies (Fox, CBS, Univision, etc.) and has Executive Produced over 300 episodes of first run television content. Robert knows first-hand the thrills, fulfillment and challenge of being independent. In 2000, Robert founded and created the first television company to target U.S. born Latinos with English language television content, American Latino TV. After growing and eventually selling that company in 2008, Robert was able to pursue full time his growing love of travel.
Despite having traveled to over 30 countries, on camera Robert does not present himself as an all knowing travel "expert" but instead as a travel "enthusiast & evangelist", hoping to inspire others to travel while they learn from Robert's occasional successes and blunders as he navigates through an unpredictable world of travel to off the beaten path locations. In the process Robert & crew connect with a variety of colorful locals and invite viewers to get rid of their fears, break out their passports and take a journey to "meet the neighbors." No celebrities, just real, ordinary people having trans-formative, life changing experiences through thoughtful, authentic and raw travel.
"Raw Travel" business plan is based on the recognition of a few basic facts.
U.S. passport possession has exploded 15 fold from just 7 million in 1989 to +112 million today.
Travel & tourism is the U.S. #1 export with spending growing at +10% annually.
Socially conscious travel (eco-tourism & voluntourism) is the fastest growing segment of travel.
Internationally, travel programming is extremely popular but in the U.S. it's under served.
Authentic travel shows on commercial TV are scarce in the U.S. as the Travel Channel has become just another "reality" channel.
Despite only grassroots social media marketing Raw Travel is leading in viewership in markets like San Francisco, Chicago, Portland, Orlando, Dallas & many more. In some cases, Raw Travel single handedly brings elusive young demographics back to broadcast TV. In most major demographics, Raw Travel's weekend audience is larger than that of weekend audiences of major cable networks such as The Travel Channel, National Geographic, E!, Animal Planet, A&E, MTV and many more.
But Raw Travel fans are more a psychographic than any particular demographic and we believe many members of the Adventure Travel Trade Association will not only enjoy viewing Raw Travel but may make excellent partners in terms of marketing, cross promotion, production, collaboration and more.
We'd like members of the ATTA to reach out to us to see if we can help each other. As one of the few (if not the only), independently produced, nationally broadcast, travel television shows in the U.S. we understand what it's like to start & run a business from the ground up. We pride ourselves on our creative, out of the box marketing solutions. We share your love of travel and imagine how the world could be if everyone was willing and able to travel and experience other cultures and see the world from a different point of view.
Connect with Raw Travel TV on ATTA's member online community The HUB