International Environmental Education Day to be marked at Baan Rachawadee Ying orphanage in Nonthaburi, Thailand. All are welcome to green day environmental fundraiser on Friday 26 January.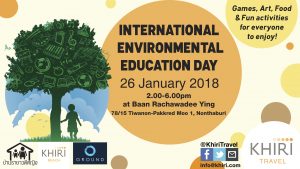 To mark International Environmental Education Day, Khiri Travel has organised a Dr. Seuss themed event at Baan Rachawadee Ying orphanage in Nonthaburi for special needs girls on 26 January. Everyone is welcome to attend to raise funds for the orphanage and spread knowledge about the 3 'R's: reducing, reusing and recycling.
All funds raised on the day will go towards creating a new food and garbage recycling centre at the orphanage. The money will also be used for a new physiotherapy building. The orphanage's old physiotherapy house is small and falling apart. Many of the 530 girls therefore don't have access to therapy due to the lack of a facility.
Baan Rachawadee Ying is government run on a very tight budget. The orphanage is dependent on charity and donations to survive.
There will be ten activities booths based on Dr. Seuss's 1972 book, The Lorax, a parable written to boost environmental awareness. Each booth has a theme, such as "Unspoiled Wilderness is a Thing to Treasure" and "Development, If Not Sustainable, Is a Dead-End Road."
Activities at each booth refer to the fictitious characters the Once-ler, who fells the trees for his factory, and the wise old Lorax, who tries to protect the forest.
At the end of the book the Once-ler realises, "Unless someone like you cares a whole awful lot, nothing is going to get better…"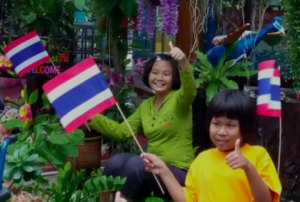 At Baan Rachawadee Ying, on 26 January, lessons from the 10 play stations will explain why it's good to sort kitchen scraps, why recycling and composting helps us all, and why we shouldn't chop down trees in acts of unsustainable greed. Some of the green-themed games at each booth are free. Some cost 20-40 baht to play – which raises the funds.
"We want to show how easy it is to make small, practical steps that will benefit both the environment and help the conditions at Baan Rachawadee Ying orphanage," said Gili Back, Khiri Travel Sustainability Manager and Executive Director of Khiri Reach, the charitable arm of Khiri Travel. "Please join us on Friday at the orphanage from 2 to 5.30pm."
Baan Rachawadee Ying orphanage is located at 78/15 Tiwanon-Pakkred Moo 1, Nonthaburi, Greater Bangkok. Tel: 02 583-6731 or 02 583-4246.
Donations can be made without attending the event. There is a crowdfunding page here. Or donate directly to Baan Rachawadee Ying orphanage. An official tax receipt will be issued from [email protected]
Contributing members are responsible for the accuracy of content contributed to the Member News section of AdventureTravelNews.