Quark Expeditions, the leader in polar adventures, today signed an agreement with Croatia's Brodosplit to build a new expedition ship uncompromisingly designed for operation in the polar regions. When launched in 2020, the 200-passenger ship, designed by LMG Marin in close cooperation with Quark Expeditions, will offer an unparalleled expeditionary capability and an array of adventure options second-to-none.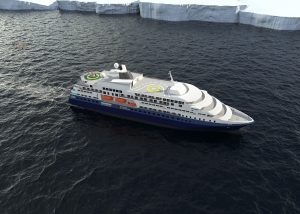 At over 13,000 gross tonnes, the new ship is designed to optimize the expedition experience with the ideal blend of personal, public and operational space. To make the most of the off-ship experience and allow for faster and more opportunistic landings, twenty zodiacs will be rapidly deployable from an internal zodiac hangar with four embarkation points. For spectacular flightseeing, heli-skiing and to access places too remote for zodiacs, unique to its class, the ship boasts two simultaneously operable helidecks. Back on ship, guests will relax in spacious cabins, recharge at modern spa and fitness facilities and refuel at gourmet restaurants.
"This ship will be more than just a ship – it will be an unrivalled operational base for polar expeditions," said Andrew White, Quark Expeditions President. "Our guests travel with Quark to maximize their expedition experience, push their boundaries and experience the magic of the polar regions. With this new ship, in the hands of the most experienced expedition team in the industry, we will get you off the ship and into nature further, faster and safer than ever before."
Going further was a key consideration in the ship's design, driving optimization of fuel, water, provisioning and waste handling systems to deliver an exceptional 40-day operational capability. This extended range, in combination with the helicopters, will make extraordinary destinations such as the Ross Sea and the remote western Antarctic "Phantom Coast" safely accessible.
Incorporating a wide array of groundbreaking safety systems, the ship will feature thirteen fully redundant critical systems, twin propellers powered by four engines in two separate engine rooms, and even a fully operational emergency bridge. And, unique to Quark, all expedition operations will be run by Quark Academy-trained expedition staff.
"Quark Expeditions only operates in the polar regions – the most unforgiving areas of the world, so safety is our top priority," says White, "That's why we created Quark Academy to ensure the highest level of training in the industry and why, when we designed this ship, we included cutting-edge safety features and made no compromises for non-polar operations."
Quark Expeditions, a member of Travelopia, a group of leading specialty travel brands recently acquired by KKR, a leading global investment firm, is no stranger to leading cutting edge innovation within the polar expedition space. Quark boasts a long history of polar firsts, from the first-ever tourist transit of the Arctic's Northeast passage to the first commercial passenger circumnavigation of Antarctica.
"Exploration is in our DNA. With this new ship, we are looking forward to decades more of exploration, creating legions of polar ambassadors and a whole new series of polar firsts."
Contributing members are responsible for the accuracy of content contributed to the Member News section of AdventureTravelNews.