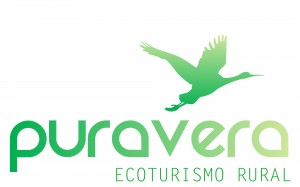 PURAVERA's mission focuses on the Sustainable Development of the Region of Comarca de la Vera (Caceres-Spain), mainly through the promotion of responsible rural tourism projects and local business support to increase employment in the area. The ultimate goal is to position the region of La Vera as a Responsible Rural Tourism destination.
The region of Comarca de la Vera is known as the imperial retreat, as Charles V (The Emperor) retired in the area, surely for a good reason. It has very diverse and rich natural scenery, with 47 natural creeks, various rivers, forest of chestnuts, oaks, pines, cork oaks, varied avifauna (borders with the National Park of Monfragüe) and many cultural and historical settlements declared of national historical interest. When you travel the region you see all the remains of the different civilizations that have established in the area. (Roman bridges, Templar castles, Neolithic caves, Gothic Cathedrals, among many others).
The company's activity is divided into four lines of business:
the promotion and management of tourist accommodation
real estate business specializing in rehabilitation of tourist accommodation
technical consulting, and
responsible investment
The company promotes responsible travel through its booking central service, where we offer both accommodations and additional services to tourists to provide a complete experience. (Tourism 2.0, Blog, Facebook, Twitter, Youtube, among others) We promote the services that are carried outdoors without impacting the environment and cultural activities such as; hiking, horseback riding, canoeing, rock climbing, visiting historical or natural heritage or gastronomical tourism, among others. We offer possibilities for the different seasons, promoting the different products and services that are harvested throughout the year. (Mycological routes, traditional cultural activities, local events, cherry and almond trees flowering season, among others).
At the moment we are developing and managing a number of accommodations both for national and international tourism. Such accommodations follow quality standards developed in our corporate protocol for all our services and activities, in order to guarantee the quality & sustainability of the services offered to our clients.
We also offer through our consultancy department, the possibility of investing in responsible tourism projects. The working team consists of experts in sustainability and rural tourism, with a network of specialists which give support in all the steps of the project. In this sense we can offer our clients services of bioclimatic and ecological building, interior design, renewable energies, consultants on aid programs and administrative procedures, marketing and communication, among others.
In 2010 we were awarded the Ser Joven y Vivir en Extremadura – Special Mention for Best Sustainable Project for Active Leisure. Awarded by the Junta de Extremadura, REDEX – Red Extremadura Rural Development and GIJ – Gabinete de Iniciativa Joven.
We seek networking, partnership/alliances, marketing, promotion, research, strategy development and mainly the establishment of the region of La Comarca de la Vera as a responsible/sustainable destination.