Editor's Note: ATTA President Shannon Stowell served as a speaker from February 3-5, 2012 at the Pacific Asia Travel Association Responsible Tourism Conference & Mart, under the theme "High Value Tourism, Low Impact Footprints." Ahead of the conference, Shannon explored Bhutan along with industry leaders and conference hosts. After the journey, Shannon interviewed Kesang Wangdi, the Director General of the Tourism Council of Bhutan at the Zhiwa Ling Hotel.

Shannon Stowell: First off, thank you for being such wonderful hosts.  When we landed in Bhutan and I got off the plane, I felt like a kid again, that feeling of wonder and excitement about Bhutan came very easily.  We're here at the PATA event and I'd like to start off by asking what significance the PATA event has for Bhutan?
Kesang Wangdi: First of all, we deeply appreciate PATA's coming here – for choosing Bhutan as a destination for the conference and board meeting. I think their choice is an endorsement of what Bhutan is doing – a very careful and cautious approached based on sustainable and responsible tourism notions; an approach that is akin to our lineage values, concepts and premises. Such a respected organization would not choose a destination randomly – I know that a specific exception has also been made for the PATA board meeting to be held here.
Second, while the meeting was taking place, people – mainly Anna Pollock, our keynote speaker, and yourself – talked about the finer aspects of tourism from the raw financial business to the more profound. And [from that] we saw a powerful validation to what we're doing – that it is the right thing. That was very useful for us, but also interspersed with that validation and the kind words all the speakers had for us, there were certain words of caution that is deeply appreciated.
We are aware that [tourism] has to be based on sustainability and we need to keep working on that. We talked about being careful about our numbers – we are in fact trying to spread that number [of tourism arrivals] so as to not increase the density and perhaps even to decrease the density. We hope to be able to convince people that the numbers are aspirational numbers – the main goal is fixed targets on how much we can contribute towards the equitable distribution of benefits such as employment.
For example  in 2011, we had a target around creating 19,000 to 20,000 jobs – and we created 22,000 jobs.
Stowell: Right. And now, if I understand, this is the also the first business-to-business tourism event in Bhutan?
Wangdi: Yes, the first one in tourism – and we're very happy this is happening here. Both in terms of scale and category, it is a first, and historical for PATA as well.
Stowell: Can you describe briefly – it's a concept people need to be able to understand – how is Gross National Happiness (GNH) woven into the tourism strategy?
Wangdi: To be very brief, we believe that GNH  is development with human values – and tourism is doing that because when people come here, we don't look at them as potential clients paying certain fees; we look at them as potential ambassadors of a country. We let them have an experience that is uniquely authentic which they may have never have had before.
Stowell: Did Bhutan really decline the World Trade Organization membership?
Wangdi: Of course we know that the WTO has tremendous potential and it is a good organization. But for Bhutan, going by GNH philosophy – and I would like to put this as truthfully as possible – we are not ready at this stage. Maybe when our development moves ahead; that does not mean we are rejecting WTO principles – they are very good.
Stowell: But they didn't quite yet jive with GNH?
Wangdi: Yes, and the level of development, and the kind of absorptive capacities we have, this economy – which is basically an agrarian society – we are being pushed willy-nilly because of successes of our good governance led by the monarchs and now by the government – a constitutional, democratically elected government. Which, by the way with this new system, democracy is itself enforced by the king – historically this has never been done. So, when we are ready – we will consider [joining WTO] seriously.
Stowell: What do you see as Bhutan's greatest opportunity in regards to tourism in the coming decade?
Wangdi: Every country has a culture that is unique and we don't claim ourselves to be super unique. What is different, given our history, is that we have a living culture. So what you experience here is authentic – so the experience is very strong.
In terms of other experiences, we have nature, wilderness. For conference tourism, we would like to blend it with nature. It's very important to go there – [we have] many areas that are available. They'd be among the first to do things like rock climbing and rafting, which have never been done [in these areas].
And we are a peaceful, secure country, and that is – how should I put it… I don't like to use the word, but a commodity. That is very difficult and we take it for granted.  Normally, this isn't something [put out there very much] – but when there is an issue, you know how it affects the tourism industry. Bhutan has never been affected by these issues.
Stowell: Conversely what do you think is the biggest threat brought by tourism?
Wangdi: I think what is important for us to know is how it impacts, because zero impact would be zero tourists. I think we need to be honest with that, and I think we need to assess the cost benefit analysis very quickly and see how it would impact negatively our culture and our nature. I don't see the growth as the threat but the management – how we can evolve as the numbers rise and how to fine tune our management in keeping with the traffic.
Stowell: What do you find is the biggest challenge in overseeing tourism in Bhutan today?
Wangdi: I don't see it as a challenge – I see a big turnaround. The fact is that all the private sector players – because tourism is a profound cross sector of import, we are talking immigration, culture, aviation, tour operators – I think the value, the need to work together, for coordination is finally coming around. Now they know the economic and emotional value, and the other values that come out of tourism. Because tourism is community work and everyone should pick up the burden equally and I am very happy that is happening – it was a challenge a few years ago but we're seeing that's going away very fast and need to be vigilant about that.
Stowell: What role do you see adventure travel playing in Bhutan's tourism strategy and future? We define adventure travel as consisting of the three pillars of culture, physical activity and the outdoors.
Wangdi: Very much – because, as we talked about product diversification, as this type of travel is growing, we need to diversify our [travel] product and showcase what we have – which is the pristine environment, the outdoors, and we would like to inform your readers that Bhutan has a lot to offer.
Stowell: I'll definitely be there telling them that too.
Wangdi: Yes, thank you! The adventure tourism forms a very critical component of our policy, which is right now only culture. Now we want to [develop adventure tourism] as an independent product.
Stowell: Are you familiar with the Global Sustainable Tourism Criteria? I was curious because I'm on the board, and of all the places I've traveled, Bhutan is probably the closest [on a country level] to already complying with the criteria. This is more of a comment, as it would be a great marketing piece, and the social piece is such a critical part of it.
Wangdi: Thank you so much. We are actually GCET compliant, which comes from UNTWO and is what I am more familiar.
Stowell: One last question – the royal family- how committed are they and involved in tourism?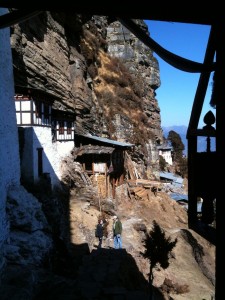 Wangdi: Well, the royal family is involved not only tourism but all aspects of development – those especially that can help the poor. How the wife of a farmer can sell textiles she has woven in the growing tourism industry, how tourism economically empowers people at the grassroots. And with that empowerment comes dignity – and that dignity is very important and I think tourism does that.
Stowell: Yes, it's critical.
Wangdi: You can throw [people] some money – I can buy meat with that but it doesn't buy dignity.
Stowell: No, in fact it takes it away.
Wangdi: Yes! If I can earn half a dollar with my own hard work, that is dignity – and I think tourism does that and it enables that at a grassroots level, for people who are on the poverty line. And we know that His Majesty – both 14th and 15th are both closely behind it; in fact the policy that we have – the high value policy was done during their time. The 15th King interacts with the guides and calls them on his own to have a tea session in his palace. There you see how he demonstrates that he cares and values the work they are doing. Our King is a hands-on person, a very compassionate one.
Stowell: What a great thing to end with! Well, I want to invite you to consider to join us for tea in Switzerland at the upcoming Adventure Travel World Summit in October. Thank you.
Wangdi:  Thank you!