Poseidon Expeditions, the go-to company for Arctic and Antarctic expedition cruising, is giving a helping hand to marine, bird and animal life through new on-board initiatives.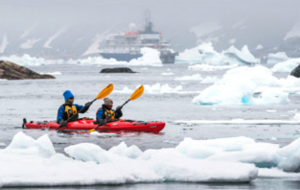 "We're all seeing the gut-wrenching photos of sea tortoises, whales and dolphins that have been victimized by the deluge of plastic in our oceans. Freeing ourselves of our dependency on things like plastic drinking straws will go a long way toward improving the health of our oceans," said Nikolay Saveliev, owner and president of Poseidon Expeditions. "We want our expedition vessels to part of the solution – not the problem."
To this end, Poseidon Expeditions' eco-friendly, newly instituted initiatives aboard the 114-passenger Sea Spirit include, among others,
removing all plastic straws and stirrers; paper straws will be available on request;
doing away with individual butter and jelly portions and replacing them with ramekins which eliminate the need for single-use plastics;
using eco-friendly laundry detergents;
installing bulk body wash, shampoo, and soap dispensers instead of using individual plastic bottles.
Guests planning cruises with Poseidon Expeditions might also consider:
bringing a reusable bottle that can be refilled with water, rather than buying disposable plastic bottles of water.
placing favorite body and beauty products into reusable silicone bottles and tubes instead of buying mini bottles of shampoo, conditioner or other products.
using only personal products that are free of harsh chemicals and micro-beads that can end up in water systems or in the air. Look for organic ingredients in recycled packaging. (Hawaiian lawmakers are considering banning sunscreens with certain chemicals because of the harm being done to coral reefs.)
On Poseidon Expeditions cruises, chefs will adhere to guidelines recommended by the Marine Stewardship Council for sustainability as regards the kinds of seafood to be served.
Saveliev underscored the importance of offering guests off-ship activities that don't harm the environment. He said that the kayaking, bird watching and photography excursions on Poseidon Expeditions' cruises leave no mark, just great memories. He underscored the importance of keeping a distance from wildlife being observed and photographed and to respect the fragile flora and fauna ecosystems in the frozen worlds.
Poseidon Expeditions is a member of the International Association of Antarctica Tour Operators (IAATO), which advocates and promotes the practice of safe and environmentally responsible private-sector travel to the Antarctic. These practices will also be adhered to on cruises into Arctic regions.
Contributing members are responsible for the accuracy of content contributed to the Member News section of AdventureTravelNews.