Polar cruise specialist Poseidon Expeditions recently turned its hand to filmmaking and walked with two awards from some 15 honors handed out at the 3rd Russian Fulldome Festival and Planetarium Conference 2017 held June 13-15, 2017, in the UNESCO World Heritage Site of Yaroslavl, Russia.
Over the three-day gathering the audience and jury viewed 50 feature films and video clips produced by creative teams from over 20 countries including Russia, Ukraine, Belarus, Germany, the United States, France, Greece, Argentina and Thailand. The conference itself assembled university lecturers, leading researchers, astronomers, fulldome producers, planetarium educators and others interested in the development and popularization of fulldome format. (According to Wikipedia, "Fulldome refers to immersive dome-based video projection environments. The dome, horizontal or tilted, is filled with real-time (interactive) or pre-rendered (linear) computer animations, live capture images, or composited environments.")
On the festival jury were eminent Russian scientists, planetarians and fulldome lovers: Sergey Yazev, head of the Jury, Director of the ISU Observatory; Thomas Kraupe, Director of Hamburg Planetarium; Mikhail Gavrilov, Academic Secretary of the Scientific Council on Astronomy at the Russian Academy of Science; Theofanis Markopoulos, planetarium producer; Dmitry Belonozhko, Professor at the Department of Physics of Yaroslavl State University.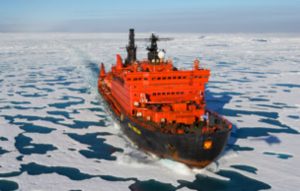 To evaluate each production jury members followed such criteria as the scientific value of the presented content, the quality of the film script and the visuals, the correspondence between the soundtrack and footage, and finally the uniqueness of the idea behind the film. Each fulldome production could be awarded the maximum of 25 points.
Poseidon Expeditions'' 360º VR film, Our North Pole 360 took awards in the categories Best Fulldome Short Film and People's Choice Award (short film). This state-of-the-art 360º virtual reality video experience uses pioneering techniques to share the North Pole realm with an online audience.
"Viewers can feel the strength as the nuclear-powered icebreaker 50 Years of Victory smashes through thick sea ice to take you to a place few other will ever have the chance to visit. While soaring above the endless ice fields in a virtual helicopter ride viewers may be left breathless, but we hope with a yearning to join us on a cruise," said Nikolay Saveliev, president of Poseidon Expeditions.
To view the film, please see 360.poseidonexpeditions.com.
He added that there's a rising interest in 360º films that are showing up today at such famous film festivals as Sundance, Dubai Film Festival and Tribeca.
Contributing members are responsible for the accuracy of content contributed to the Member News section of AdventureTravelNews.