Opt for a less polluting, lower emissions holiday and receive 2 extra vacation days from your employer. If they are part of the new Climate Perks initiative, that is.
Climate Perks
Climate Perks is a new pilot scheme that has just been launched by 10:10, the UK-based climate solutions NGO. As its new website explains, "Climate Perks employers offer paid 'journey days' to empower staff to live their values and choose low-carbon holiday travel".
Better Places
The Dutch tour operator Better Places has joined the Climate Perks scheme as one of the first travel companies in the world. What this means in practice? If a Better Places' employee chooses to go on holiday by train instead of by plane, Better Places rewards this with two extra days off (per year), or one day off per leg of journey. Better Places employees will receive an extra holiday day even if they replace an internal on-destination flight with a train ride (if longer than 8 hours).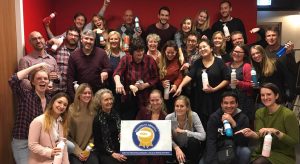 Saskia Griep (CEO Better Places): "We chose to join Climate Perks because we want to promote traveling by train. It is important to set a good example and with this initiative you make the choice for a train journey a lot more attractive. It is up to the employee to determine whether he / she opts for this. In this way, we can reward sustainable behaviour and let employees experience for themselves that traveling by train is more attractive choice than it might initially seem."
Better Places hopes other tour operators and sustainably minded companies will follow suit: "I am also opting for a train journey this summer," says Ms Griep. "I am going by train to Geneva and then by bus and boat to Albania. Booking the train journey was easier and cheaper than I thought. Climate Perks is a great, positive initiative that many companies can implement very easily. "
Why Climate Perks?
Because choosing an alternative mode of transport (not an airplane) for your holiday significantly reduces emissions
Enables staff to live their values
Traveling by train simply takes more time than by plane. That is why those two extra days are no more than fair.
Focus on the positive: sustainability is often still a negative or charged subject. With Climate Perks, the focus is on the benefits of more sustainable travel.
Read more about Climate Perks and join the low emissions travel initiative!
Contributing members are responsible for the accuracy of content contributed to the Member News section of AdventureTravelNews.