By Chris Chesak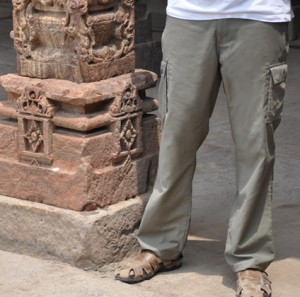 These pants are a great combination of casual style, durable functionality, and a whole lot of security – all rolled into one.
The concept of the Pick-Pocket Proof Pants is to create a durable, functional pair of adventure travel pants that are so secure that you no longer have to worry about bringing such security devices as a money belt.
I've worn a pair of their Adventure Traveler pants from New York City to Namibia to Switzerland (and many places in between) and they have been outstanding. The fit has been great, the look matches my casual work environment extremely well, and the additional security of the pants has been re-assuring.
The pants offer multiple layers of security on all their pockets that should deter most pickpockets immediately. Each pocket has at least two closure options, either dual buttoning systems or a zipper/button combo that allows you to button closed the zipper – creating pockets so difficult to access that they should deter pickpockets in favor of other, easier targets.
The pants boast several other thoughtful features for the adventure traveler, including a durable cotton/nylon fabric blend, expandable backpocket that will fit a guide book, dual internal smartphone/camera pockets, cut-resistant cargo pockets, and even a removable water bottle sleeve. The pants' DuPont Teflon fabric is also wrinkle, rain and stain resistant as well.
Clothing Arts offers the Adventure Traveler pants, a shorts version, and both pants and shorts in a 'Business' version as well. A women's line is planned for the near future as well.
Pick Pocket Proof Pants
Specs:
Manufacturer: Clothing Arts
Product: Pick-Pocket Proof Pants – P^cubed
Product type: Apparel (pants)
Website: http://clothingarts.com/
Product webpage: http://clothingarts.com/pickpocket_proof_pants_adventure_traveler
MSRP (in USD): $109.95