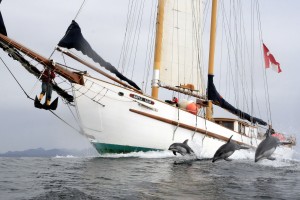 Victoria, B.C. – "This is wild heaven." With that description, the editors of Outside magazine, one of the world's biggest travel and lifestyle magazines, have today given Haida Gwaii the "Best Islands" designation in the magazine's 2013 Active Travel Awards. And Canada's Maple Leaf Adventures, also a winner of a 2013 Outside travel award for its 9-day expedition cruise in Haida Gwaii, is pleased to have helped educate Outside about this renowned destination.
"We spent quite a bit of time corresponding with Outside's journalist this fall," says Kevin Smith, president of Maple Leaf Adventures. "We are convinced that Haida Gwaii is one of the world's greatest places. We are thrilled Outside thought so, too. They gave Haida Gwaii the "Best Islands" award …even beating well-known places like St. Lucia."
Many Canadians feel the call of Haida Gwaii, an archipelago of islands off the BC coast, formerly called the Queen Charlotte Islands. The ancient rainforest was famously protected in the 1980s in Gwaii Haanas, the protected southern third of the islands. The marine life is astonishingly rich, with several species of whales, many marine mammals, and over a million seabirds feeding off tons of fish and krill. It's known as the Canadian Galapagos. And, if that weren't enough, the unoccupied Haida village sites in Gwaii Haanas, with their original monumental poles and houses still in place, are the best example of northwest coast First Nations villages in existence, while modern Haida culture thrives in the north.
But outside Canada, the place is little-known. "This year we unearthed a handful of amazing new frontiers in active travel," says editor Christopher Keyes from the American magazine.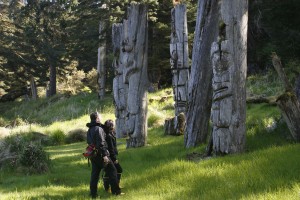 It's a great opportunity for exposure beyond Canada, since experiences like the natural and cultural history of Haida Gwaii are what differentiate our country in the world as a spectacular place to holiday. Because of this, the Canadian Tourism Commission recently named Maple Leaf Adventures' expedition cruises there one of the "Signature Experiences" of Canada.
"The team at Maple Leaf Adventures are great ambassadors for our industry and we're proud to showcase the Haida Gwaii (Queen Charlotte Islands) Tour in our international marketing as a member of Canada's Signature Experiences Collection," said Greg Klassen, the Canadian Tourism Commission's Senior Vice President, Marketing Strategy and Communications. "We know this kind of unique experience is what captures the imagination of travellers and makes them want to explore Canada."
Ecotourism is also a key element of the Haida Gwaii economy, with Gwaii Haanas drawing individual adventurers and guests on guided trips by kayak, seaplane or expedition cruises by sailing ship, like Maple Leaf Adventures'.  The designation is sure to give the sector a boost.
"Thank you to Outside Magazine and Maple Leaf Adventures for acknowledging Haida Gwaii and Gwaii Haanas as among the worlds' best islands destinations and for helping to inspire visitors to come and experience the rugged beauty and rich natural and cultural heritage of Gwaii Haanas" said Ernie Gladstone, Field Unit Superintendant, Gwaii Haanas National Park Reserve, National Marine Conservation Area Reserve, and Haida Heritage Site.  "Travelling with a licensed tour operator like Maple Leaf Adventures offers great added value for visitors looking for guidance and expertise during their Gwaii Haanas wilderness experience."
Maple Leaf Adventure's expedition cruises in Haida Gwaii include sailing the 138 islands of Gwaii Haanas with expert an crew and naturalist aboard the 92-foot schooner Maple Leaf. Highlights include shore trips to explore the rainforest and beaches, wildlife viewing, and visits to Haida cultural sites including UN World Heritage Site SGang Gwaay. 2013 and 2014 departures are nine days and run May to July, starting at $4750 per person all inclusive. For more information, visit www.MapleLeafAdventures.com or call +1-250-386-7245.
Contributing members are responsible for the accuracy of content contributed to the Member News section of AdventureTravelNews.