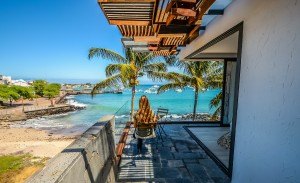 Opuntia Hotels, the leader of premier and sustainably-focused hotels throughout the Galapagos Islands, introduces three new properties, two located in Isabela Island and one in San Cristobal Island.
The properties showcase an array of luxury and modern-rustic decor that elicit the unique beauty of their natural surroundings.
"We took these superbly located properties and completely remodeled them to the Opuntia standard. In particular, the addition of Golden Bay Hotel and Spa allows us to offer a luxury and premium signature journey across three islands" says Marcelo Meneses, CEO and Founder of Opuntia Hotels.
PREMIUM HOTEL
Golden Bay Hotel & Spa in San Cristobal Island, is the best oceanfront hotel in the Galapagos. Its luxury design is harmonious with environmental demands and guests enjoy high-end gastronomy, a spa, infinity pool and a view of the bay from the panoramic terrace.
Rack Rates start at $341 per night.
COMFORT HOTELS
Volcano Hotel located on Isabela Island has been completely redesigned into a stylish ten room hotel adjacent to the beach. The comfort class property was rebuilt and refitted in 2016, undergoing a floor-to-ceiling renovation. Its moments from the beach, and walking distance from the center of town, in Puerto Villamil.
Rack rates start at $181 per night.
Casita de la Playa located on Isabela Island, boasts 12 oceanview room accommodations and a relaxing beachfront lounge. Previously a beach house repurposed into a twelve room boutique hotel, Casita de la Playa offers guests the experience of privilege and privacy in the Galapagos Islands.
Rack rates start at $194 per night.
Contributing members are responsible for the accuracy of content contributed to the Member News section of AdventureTravelNews.