OneSeed Expeditions, based in Denver, CO, has been named the Gold winner in the Best for Local Economic Benefit category at the at World Travel Market in London.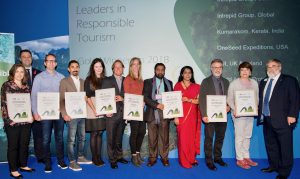 The WTM World Responsible Tourism Awards are presented each year at a three-day event attended by more than 600 leaders in the global travel industry. The awards are the focal point of WTM Responsible Tourism Day.
"Investing in local communities has been the cornerstone of our adventure travel business since 2011," said Chris Baker, founder of OneSeed Expeditions. "We are honored to be recognized with others in our industry for committing to socially responsible travel and the positive impact it can have around the world."
OneSeed spends 79 cents of every dollar in the local economies where it operates: Nepal, Bhutan, Tanzania, Chile, Colombia, Peru, and Argentina. This includes 65.8% spent on local suppliers, 3.5% dispersed to local guides through a profit-sharing program, and 10% invested in microcredit to local entrepreneurs to help expand and diversify the economy.
This year's awards were presented last week in London by BBC's Tanya Beckett on behalf of WTM Responsible Tourism. Awards were presented in five categories: Best for Wildlife, Best for Communicating Responsible Tourism, Best for Managing Success, Best for Employment, and Best for Local Economic Benefit.
WTM representatives said companies, like OneSeed, are being recognized for practices and initiatives that will inspire others and that are replicable across the industry.
"We want to encourage change in the industry, to single out for recognition those who are taking responsibility and can evidence that they are having a positive impact," said Dr. Harold Goodwin, Managing Director of the Responsible Tourism Partnership and Chair of the WTM Responsible Tourism Awards panel.
OneSeed Expeditions links exploration with investment to develop a completely local supply chain, incentivizes and educates their partners on responsible tourism practices, and uses revenue from OneSeed clients to invest in local businesses through microfinance.
OneSeed won Silver in the Best for Poverty Reduction in 2015 — and this year, WTM judges singled out OneSeed for significantly growing its program and impact in the last three years.
Contributing members are responsible for the accuracy of content contributed to the Member News section of AdventureTravelNews.