Stories of adventure, guide interviews, travel tips, stunning photography, and articles penned by award-winning travel writers make the 2012 O.A.R.S. catalog one of a kind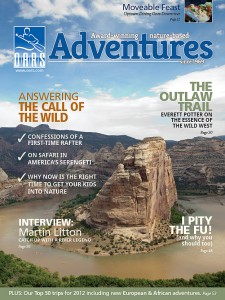 Angels Camp, CA – Veteran outfitter O.A.R.S. is excited to announce the 2012 edition of their annual catalog of award-winning nature-based adventures. The 2012 O.A.R.S. catalog garners attention as an industry first: a content-rich, magazine-style publication that bucks the conventions of the traditional travel catalog and captures the culture and evocative nature of the O.A.R.S. experience. Readers will discover a stunning collection of whitewater rafting and sea kayaking adventures, interviews with larger-than-life river guides, travel tips, recipes from the river, and a wide range of stories and articles penned by professional travel writers. When asked, O.A.R.S. Director of Marketing Steve Markle remarked: "Our intention was to reinvent the traditional catalog and increase the value to our travelers while engaging them emotionally by giving the O.A.R.S. book a more sincere and authentic third-party voice."
Acclaimed travel writer Everett Potter contributes the feature story about Butch Cassidy and the Outlaw Trail in the Wild West while another award-winning writer, Cynthia Barnes, recounts her experience hiking and sea kayaking in Yellowstone and Great Teton National Parks. Blogger Kristin Mastre's narrative of her first-time rafting experience on Oregon's Rogue River offers readers a glimpse of the trepidation and transformation that many reluctant rafters must feel on their maiden voyage. The catalog's content covers everything from fly fishing and star gazing to craft beer in a can and family-friendly adventures. Journalists John Muncie and Katie Arnold write about introducing kids to the outdoors, while other contributors offer photography tips, useful advice on traveling abroad, a guide to the birds of western river corridors and destination guides to the classic western towns of Moab, Jackson Hole, and Salt Lake City.
The 2012 O.A.R.S. adventure catalog will give readers a chance to get to know some of the unique guides and personalities from the O.A.R.S. Family of Companies. An interview with river legend Martin Litton, the founder of Grand Canyon Dories, gives readers insight into the history of rafting in the Grand Canyon and the sublime art of rowing whitewater in a dory. Veteran river guides Basilio Cakaunivalu, Stephen Kenney and Natali Zollinger share their unique passion for river guiding and give readers a chance to get to know the folks who might one day guide them down one of the great rivers of the world. Readers will also learn the secrets of cooking gourmet meals on the river from Bob Anderson, executive chef and host of O.A.R.S.' popular Wilderness Gourmet Series. Throughout the catalog are stunning images from professional photographers including Justin Bailie, a regular contributor to magazines such as Outside, Backpacker and Sunset. These stunning landscapes and thrilling action shots truly bring the O.A.R.S. experience to life within the pages of this one-of-a-kind publication.
O.A.R.S. has crafted this innovative new catalog by throwing out the sales copy and focusing instead on providing original, relevant and emotionally engaging content that truly communicates the O.A.R.S. experience to readers. To make all this content more accessible to their travelers, slideshows, videos, articles, interviews and more from the 2012 catalog are served up across multiple platforms, including the O.A.R.S. Blog, Watermark E-Newsletter and through various social media channels. Articles from Everett Potter and other contributors will also be available on their individual websites. The 2012 O.A.R.S. catalog should serve as a resource that travelers can turn to again and again when dreaming about and planning their next adventure. Markle concludes: "Our hope is to give people a glimpse of the culture and adventure of the O.A.R.S. experience and to inspire people to visit the destinations where we lead trips. In the end, we hope people enjoy the catalog and that the new approach results in a longer shelf life, more sharing with friends and family and, of course, more people enjoying the incredible adventures we have to offer."
The 2012 O.A.R.S. catalog is available free of charge at oars.com/catalog or by calling (800) 346-6277. Or, view the digital version on any desktop browser or mobile device at http://ow.ly/6VeNw.
Contributing members are responsible for the accuracy of content contributed to the Member News section of AdventureTravelNews.