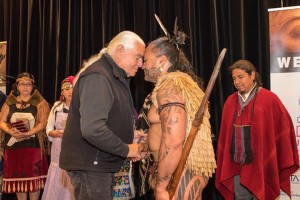 The Pacific Asia Indigenous Tourism Conference and Trade Event (PAITC2015) celebrated the successful conclusion to a very topical and inspiring weekend. The conference was held September 12-14, 2015, and was organized by the Aboriginal Tourism Association of BC (AtBC) and the World Indigenous Tourism Alliance (WINTA).
Hosted by the Musqueaum, Squamish, and Tsleil-Waututh First Nations in Vancouver, BC, the conference brought together Indigenous communities, government agencies, industry, academics, and media from around the world to share and inspire each other through cultural presentations and candid dialogue.
Sessions covered a broad range of topics, from future-casting market and industry trends, to sharing how to best leverage relationships with the media and travel trade. A common theme throughout was the imperative need for genuine partnerships between mainstream and indigenous businesses built upon mutual trust and inter-cultural understanding.
WINTA Director Johnny Edmonds felt the conference achieved a key outcome in that attendees "validated and confirmed that the Larrakia Declaration is a sound basis for the empowerment of Indigenous peoples in tourism."
"The inaugural PAITC in 2012 held in Darwin, Australia, gave us the 'what' as encapsulated by the principles of the Larrakia Declaration", reflected John King of the Pacific Asia Tourism Association. "PAITC2015 has now given us the 'how' in the form of an assessment toolkit developed upon those same Larrakia principles."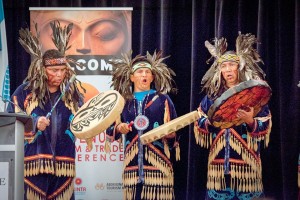 "The international delegates who travelled all the way from Chile, Mexico, New Zealand, Australia, and Nepal to add their voices to the conversation contributed immensely to the depth and richness of the event", noted WINTA Chairman Ben Sherman. He further added that "the professional caliber of authentic tourism experiences provided through AtBC demonstrates the level of quality and achievement that is possible by indigenous tourism operators."
Keith Henry, CEO of AtBC, was also pleased with the quality and diversity of delegates in attendance, acknowledging that this conference had some of the strongest support for Aboriginal Tourism by mainstream industry and government stakeholders that he has ever seen.
As the conference came to a close, in traditional cultural protocol, the Maori delegation from New Zealand put forward a tono (request) to partner with WINTA to further articulate the principles of the Larrakia Declaration and to host the next indigenous tourism and trade conference in 2017.
Contributing members are responsible for the accuracy of content contributed to the Member News section of AdventureTravelNews.