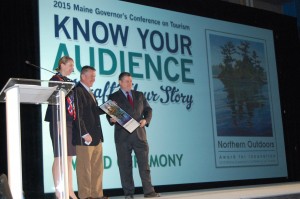 The Forks, ME – Northern Outdoors, the pioneer of the state's rafting industry, was recently honored with the Governor's Commitment to Innovation and Creativity award at the Maine Governor's Conference on Tourism, held on March 17 to 18 at the Augusta Civic Center in Augusta.
Northern Outdoors ran their very first rafting trip on the Kennebec River and the first commercial rafting trip in the state of Maine in 1976. Every year, almost 20,000 guests choose Northern Outdoors for their adventure vacation. They are recognized for having developed adventure entrepreneurs and creating innovative partnerships and technology tools that support new adventure tourism sectors in Maine and beyond.
Acknowledging the important role of technology in the adventure tourism industry more than ten years ago, Northern Outdoors sought to collaborate with a group of like-minded outfitters with the ultimate goal of building a comprehensive business management software system tailored to adventure tourism. From this alliance, AdventureRes was born. The software now services more than 35 companies throughout the United States, ranging from revenues of less than $1 million to more than $20 million.
Recognizing the benefits and power of collaboration, and their own core competencies, Northern Outdoors prides itself on supporting adventure entrepreneurs who are able to help round out their guests' experiences by offering guided adventure trips. Case in point, their partnerships with Kennebec River Anglers, a fishing guide service, and Backcountry Expeditions, a small family-run ATV and snowmobile rental provider, to whom Northern Outdoors provides business consulting, marketing assistance, and central reservation functions. Millinocket's Abol Bridge Campground is their newest collaborative partner. Northern Outdoors will use their reservations platform to provide booking capabilities for Abol Bridge Campground and the campground will provide camping, lodging, meals and a meeting location for Northern Outdoors guests recreating in the Katahdin Region this summer.
"The most innovative piece of their work is the bold decision to support small, specialized providers. Northern has not only put their resources behind supporting us, but they've also helped shape the services we provide to meet the excellence standards their customers have become accustomed to," stated Rachel Crater, vice president and registered Maine guide with Backcountry Expeditions. "This support has made a tremendous impact on the way we succeed in business."
"We truly pride ourselves on our ability to recognize and tout the importance of collaboration among rural-based adventure travel and tourism entities," said Russell Walters, president of Northern Outdoors and Kennebec River Brewery. "As a company, we strive to be an outstanding industry service provider and look forward to sharing our knowledge and technology tools with others that may need the support. We are beyond thrilled to accept this award."
Contributing members are responsible for the accuracy of content contributed to the Member News section of AdventureTravelNews.