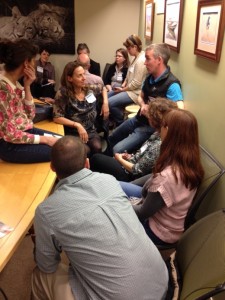 ATTA kicked off its annual North American series of AdventureConnect networking events in Boston and Washington, D.C., last week. In Boston, industry leaders met up at the headquarters of Thomson Safaris, while the D.C. crowd was hosted at World Wildlife Fund headquarters.
ATTA's Chris Chesak, Executive Director of North America/Oceania, presented industry updates to the attendees, including; a recap of the ATTA's past ten years of successes, the ATTA's sphere of influence in the industry, updates on ATTA programing, and a short video about the association. Chesak then led the groups in peer-to-peer networking sessions, where small groups discussed key issues of concern.
"These events are imperative for connections, helping forge business relationships, discuss pertinent developments and ideas and it's really imperative for us as an industry to discuss these issues as a community," said Nicole Wineland-Thomson, director of National Geo Family expeditions, based in Boston.
The groups were surveyed beforehand to identify business topics to discuss with peer groups at the AdventureConnect event.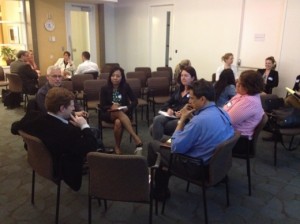 Topics for the Boston group included:
The future path of online marketing
Working with travel bloggers
Strategic partnerships within/out the industry
Engagement with the Millennial generation
What AdventureConnect events could look like next year
In D.C., the group wanted to discuss:
Strategic Partnerships within/out the industry
Sustainability Marketing
Brand and Storytelling
Defining Successful Digital Marketing
Accelerated Industry Growth
The ATTA is using the data gleaned from this survey, and similar ones sent out to other AdventureConnect attendees in other regions, to help chart the course of the organization's programming in 2015, including a possible revamp of the AdventureConnect series.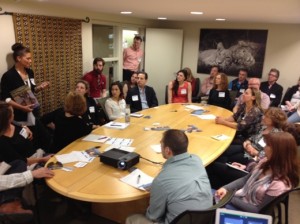 Chesak noted, "The AdventureConnect events are excellent sources of connectivity in the industry, information sharing, and community-building for the industry. But we're always looking to keep things fresh and dynamic and the ATTA is looking at ways that we can take these events 'to the next level' next year."
Even without changing a thing, the ATTA knows these events are useful, even for first time attendees like Ocean Doctor President David Guggenheim, who had this reflection on the AdventureConnect in Washington: "This event has been a really important learning experience for me. I see great value for companies like mine to come to something like this and learn more about trends and advancements in the industry. And it's great to see so many people come together around sustainability, because if we can all work together around issues like this we all win."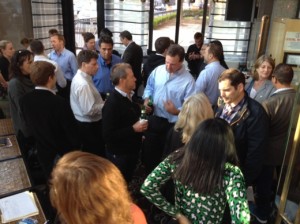 The ATTA's AdventureConnect events are scheduled adjacent to each other so that other ATTA members can use the events as a platform for their own road show. "This was a great opportunity to tie a trip to America to an event like this. It allows me to meet the local tribe, while also getting caught up on industry trends and all the latest from ATTA," said Stevie Christie, Director of Wilderness Scotland, about the Boston event.
The ATTA's AdventureConnect series for North America will continue with further events throughout April and into May:
April 17 – Boulder, CO
April 22 – San Francisco, CA
April 22 – New York, NY
April 24 – Los Angeles, CA
April 24 – Toronto, ON
May 2 – Seattle, WA
For more information about AdventureConnect, including details on forthcoming events and to RSVP, click here.