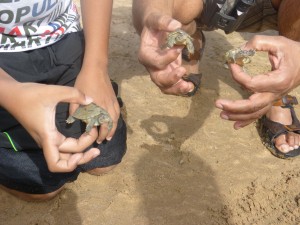 On World Turtle Day (23rd May 2015), a bale of newly hatched Batagur Dhongokas was released on the banks of the Chambal River. The National Chambal Sanctuary Project co-ordinated by the Forest Departments of Madhya Pradesh, Rajasthan, and Uttar Pradesh and the Turtle Survival Alliance are known worldwide for their conservation programs. Their consistent monitoring and operational head-starting projects are helping in recovering the population of the Batagur genus. Every year the newly born hatchlings are relocated and released from these protected hatcheries on the banks of the Chambal River. These initiatives receive great support from Turtle Ltd. a fashion brand based out of Kolkata.
Indian Outskirts (iO) thus combined forces with either teams to conduct a very special workshop named "Ninjas for Turtles". The USP of the workshop were the children who got that opportunity to explore the wild at such close counters.
The workshop was segregated into special sections like the "Nature Treasure Hunt", discussion led by a member of TSA, a safari through the river Chambal and the finale of releasing the hatchlings on the banks. During the workshop, the children were more than excited to hold onto the tiny hatchlings in their hands, the joy on their faces to watch the bale of Batagurs taking to the shore. It was indeed an emotional moment for all of us.
These workshops served as "points to access" for these urban children who seldom get to explore and venture into the wild contours. "Ninjas for the Turtles" was an effort to let these species survive in their natural habitat.
Being the only protected area for these critically endangered species, the role of Chambal National Sanctuary Project becomes even more vital. The TSA on the other hand is the guiding hand that is consistently helping in checking after these hatcheries.
The population of the aquatic wildlife in India is decimating at an alarming rate. Therefore, there is an ardent need to accord commendable projects such as the National Chambal Sanctuary Project and Turtle Survival Alliance. And what would be the best way than to participate and learn closely about the programs themselves.
Therefore, with high hopes for the hatchlings who made safely to the shore and to the conservation the Batagur genus; Team iO feels highly elated to have been part of this stupendous workshop.
Indian Outskirts specializes in trekking, cycling and exploring the biodiversity of the incredible region known as the Indian Subcontinent comprising of Bangladesh, Bhutan, India, Nepal and Sri Lanka.
Contributing members are responsible for the accuracy of content contributed to the Member News section of AdventureTravelNews.