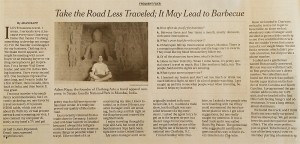 Readers who picked up the Business Section of the NY Times on Tuesday Feb 4th, learned about the frequent travels of Pick-Pocket Proof Pants™ designer Adam Rapp – "Take the Road Less Traveled; It Might Lead to Barbecue." Since founding Clothing Arts in 2009, Rapp has traveled around the world in search of the newest materials and best qualified factories to produce his innovative line of secure travel apparel.
Along the way, Rapp discovered that business travel doesn't have to be a burden. Instead, it can opportunity to explore a new country for a few hours if you plan your layovers properly. The article talks about a recent layover Rapp & Clothing Arts director of sales, Marc Orenstein took on the way to a tradeshow in Germany. The flight offered them 10 hours in Istanbul – a city Rapp knows well since it was where the very first pair of Pick-Pocket Proof Pants was prototyped. They bought visas on arrival, headed into the center and enjoyed a traditional breakfast of Mercimek corbasi, Turkish lentil soup. Afterwards they got lost inside the Grand Bazaar, toured the Blue Mosque, Hagia Sophia and Basilica Cistern before crossing over Galata Bridge for lunch. This was at one of Rapp's favorite restaurants, a group plastic tables and chairs set out along the Bosphorus at the end of a fish market. The fish was caught that morning, grilled to perfection and served with a view of the old mosques of Istanbul. Well worth the effort to leave the airport on their 10 hour layover! They also stopped for Turkish coffee & the city's most famous baklava before heading back to catch their connection.
One tip that Rapp offers in the article is to bring along an HDMI cable while traveling. With his virtual private network, and streaming video service, he can plug his laptop into the TV at the hotel and have his own portable entertainment center anywhere in the world.
Contributing members are responsible for the accuracy of content contributed to the Member News section of AdventureTravelNews.