"The International Voluntourism Guidelines for Commercial Tour Operators" Launched at the Ecotourism and Sustainable Tourism Conference (ESTC) September 17, 2012 in Monterey, California, USA.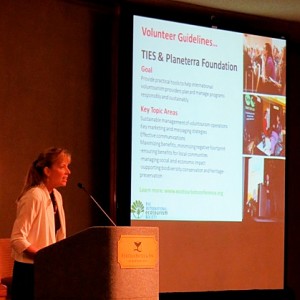 Monterey, CA – The International Ecotourism Society (TIES) announced today the launch of the new e-publication "The International Voluntourism Guidelines for Commercial Tour Operators", which has been developed through a collaborative research project supported by the Planeterra Foundation. The e-publication was launched at TIES' annual international conference, the Ecotourism and Sustainable Tourism Conference (ESTC), being held in Monterey, California, USA, September 17-19, 2012.
Dr. Kelly Bricker, TIES Chair said, "We are thrilled to announce the new Voluntourism Guidelines and to share this comprehensive tool with our members around the world. Our aim is to positively contribute to the growing field of voluntourism by providing a practical tool for international voluntourism providers, and we believe that by collaborating with a diverse range of voluntourism practitioners and industry leaders, we've been able to gather and utilize some of the latest research, practical knowledge and applications in the field that will help voluntourism providers plan and manage their programs in a responsible and sustainable manner."
In addition to information about relevant guidelines, codes of conduct and resources related to volunteer travel and sustainable tourism, the Voluntourism Guidelines include important insights into key challenges and opportunities for tour operators, through examples of voluntourism operators including Global Vision International (GVI), Calabash Tours (South Africa), Voluntario Global (Argentina) and G Adventures.
Among the most important points that have been raised by the Voluntourism Guidelines advisory committee members, as well as by industry stakeholders who have participated in the guidelines' research and development process, was the recognition that voluntourism projects should be developed to effectively address the needs of local people and their environments, collaborating with and led by the local community members. The key to ensuring that voluntourism projects are achieving tangible benefits for the local people is the ongoing process of community needs assessment, and thus the Voluntourism Guidelines offer valuable insights into how to incorporate this important process into the planning, development and management of voluntourism programs.
The development of the Voluntourism Guidelines, including the background research and stakeholder meetings in 2011, has been made possible by the generous support of the Planeterra Foundation.