Australis, the expedition cruise line that sails through one of the wildest and most beautiful regions of the world, has introduced a new logo to celebrate its 25 years of cruising in the southernmost channels of Patagonia. Incorporating the company's familiar symbol, the penguin, as well as Cape Horn and Patagonia, the 25 years logo highlights the best of the experiences.
Clients are left with unforgettable memories as the ships journey through Chile and Argentina with majestic glaciers, Cape Horn, Wulaia Bay (Darwin's first stop in South America), extraordinary wild life and more.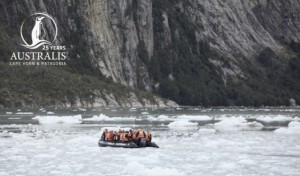 Jorge Rodriguez, sales manager for North America for Australis said, "We offer an opportunity to sell a different kind of cruise for clients who want to do more than just sail and shop in ports of call. These are journeys of discovery in a pristine natural environment that is home to magnificent flora and fauna. The Zodiac boats enable us to get up close to the wonders of nature."
"The fact that we have done this for 25 years in an area where no one else sails is a tribute to the expertise of our crew and the design of our ships. Each cruise has a different set of circumstances that present unique challenges, especially in this area of unpredictable climate changes."
To focus on the importance of the expertise of a travel agent, Australis recently introduced a Specialist Program for Travel Agents. Jorge explains, "We invite travel professionals to work with us to establish themselves as experts who reach out to clients inclined toward adventure."
Informative, fun and self-paced, the Australis Program will provide participants with all the tools needed to effectively identify, market to, and close sales with the Australis demographic – educated, experienced, adventurous travelers who are motivated by unique experiences and access to nature. As a graduate of the program, Australis Specialists will have access to exclusive sales and product training opportunities, as well as other benefits from the company.
Contributing members are responsible for the accuracy of content contributed to the Member News section of AdventureTravelNews.