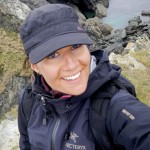 The largest outdoor and sports show in Europe, ISPO, takes place once a year in Munich, Germany. The show halls are enormous and filled with the latest trends within the outdoor sports and health & fitness industries. It's like an amusement park for gear enthusiasts and a fantastic opportunity for gear brands to display their new products and creative new solutions. For many, it's the most important happening of the year, where serious business takes place.
More than 80,000 trade visitors attended the show between February 5 – 8. There were over 2,500 exhibitors from over 50 countries at ISPO. The fastest growing segment is the outdoor segment with more than 40 new exhibitors and almost 100 new brands.
ATTA was represented by Ulrika Larsson, Partnerships Lead in Europe, and the main purpose of her visit this year was to create comprehensive added value between the ATTA and well known European outdoor gear brands and to get a better understanding on how the ATTA, as a facilitator for the adventure travel community, can find mutual benefits from partnering with outdoor gear brands. There is a natural connection between the adventure travel community and the outdoor gear industry and being able to connect these two communities will result in valuable synergies between tour operators, destinations and gear brands.
On the theme of new product innovation, ISPO honors the most exceptional sporting goods with the ISPO Award. In an industry that is moving faster than ever, it is key for the brands to be creative like never before.
"The purpose with the ISPO Awards is to honor excellent sports products in the industry," says Jonas Hellentin, one of the jury members for ISPO Awards for the outdoor segment. The award sees more than 500 submissions each years.
"We see more and more cross over products bridging the gap between lifestyle and sports," continues Hellentin. "The trend's been evident for some time, but with the sharp competition from already established lifestyle/fashion brands, integrated relevant function is now extremely important. Whereas it was important to look 'ski' in the street, it's now important to look 'fashion' on the slopes."
The meetings with highly regarded outdoor brands over the inspiring two days at ISPO continue the value the ATTA team brings to European members, offering new member benefits and new open minded ways of connecting brands with the thriving adventure travel community.
And with experience product innovation being such a hot topic within adventure tourism right now, it was inspiring to see the buzz in the outdoor industry and their take on product innovation. Looking ahead, we can clearly see that there are great opportunities to be had, if these two communities can share knowledge, input and visions. There seems to be no limits when it comes to exploring the endless haven of cross border collaborations as the ATTA continues to encourage partnership among like-minded people, members as well as non-members.