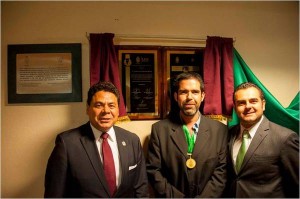 Roberto Pedraza Ruiz with Congressmen Gilberto Pedraza Nuñez and Yairo Marina Alcocer during the LVII Querétaro State Legislature award ceremony.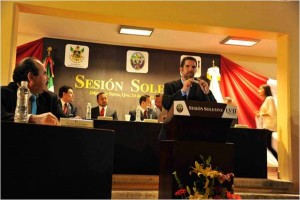 Roberto Pedraza Ruiz, receiving the Ecological Merit Medal of Honour from the LVII Querétaro State Legislature
Last night conservationist Roberto Pedraza Ruiz was awarded the Ecological Merit Medal of Honour from the LVII Querétaro State Legislature, for his work as a conservationist and nature photographer. The medal was awarded by Congressman Braulio Guerra Urbiola, President of the Legislature, with the ceremony taking place in the Sierra Gorda's Historical Museum.
Pedraza Ruiz was born in Querétaro City and grew up in the Sierra Gorda. He showed a strong interest in biology from childhood and he began his career as a conservationist and nature photographer when his parents began a project to protect and watch over the biological diversity of the Sierra Gorda in 1989. He is the Director of the Land Conservation Program at Grupo Ecológico Sierra Gorda I.A.P (GESG),  which has created a network of private nature reserves in the Sierra Gorda Biosphere Reserve. These private reserves are unique sanctuaries because of their ecosystems and the diversity of their endemic and threatened flora and fauna species. In addition, his award-winning nature photography has allowed him to raise awareness about such threatened species. His photo website and blog are the first of their kind dedicated exclusively to the Sierra Gorda's conservation and biodiversity. His images are used to educate, promote and raise awareness amongst local people and visitors about the importance of the Reserve's biological richness. They have been featured in national and international publications and media, as well as in individual and collective photo exhibitions.
On receiving the medal for his work and images, Pedraza Ruiz says, "This medal shows the Legislature greatly supports the work of GESG in protecting the region's biodiversity, as well as supporting a conservation economy for local communities in the Sierra Gorda. For me, that means much more than just recognition for my photographic work, and for that I'm truly honoured, and grateful that these images could help in our mission to conserve the region."
Contributing members are responsible for the accuracy of content contributed to the Member News section of AdventureTravelNews.