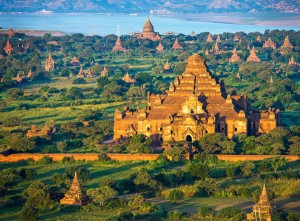 Boulder, CO –  Natural Habitat Adventures (Nat Hab), the world's premier nature travel company, is debuting a brand-new trip, Exploring Nature & Spirit in Myanmar & Thailand, in 2015. This 13-day active journey showcases the little-explored wild side of Myanmar along with the biodiversity of the world's oldest rainforest, Thailand's Khao Sok National Park.
Natural Habitat Adventures' in-depth tours (maximum 10 guests per departure) are scheduled for Feb. 2-14, Feb.23 – Mar 7 and Nov 30 – Dec 12, 2015, plus four dates in 2016. The per-person, double rate is $8,895 (single supplement is $2,295) plus internal air of $1,275 (subject to change).
Until a few years ago Myanmar (Burma) was off limits to most US citizens because of political sanctions. Nat Hab now joins a select set of companies introducing travelers to Myanmar, yet with a fresh angle. Its nature-focused itinerary pioneers eco-travel here by providing access to little-visited national parks and wildlife reserves such as Popa Mountain National Park, home to rare langurs (leaf monkeys), and the Mergui Archipelago where Burmese macaques, one of the world's few tool-using primates, live and breed.
The adventure begins in Myanmar's capital, Yangon (Rangoon) where vestiges of British colonial life mingle with markets and commerce. Providing succor to monks (good karma for those on the path to enlightenment) and helping to feed and wash elephants at Green Hills Elephant Camp set the tone in the first days for a trip that mixes nature with spirit along the way.
At Inle Lake, the hub of a rural region centered on farming and local markets, guests witness age-old floating agricultural techniques passed down through the generations and visit Inle Lake Wetland Sanctuary, home to more than 350 different bird species.
Then, along the Irrawaddy (Ayeyarwady) River travelers explore Bagan (Pagan) that harbors the world's most prolific collection of ancient Buddhist temples, pagodas, stupas and shrines, some dating to the 11th and 12th centuries. Back in Yangon are opportunities to delve further into Buddhist culture by circumambulating the gilded Shwedagon Pagoda, a pilgrimage for the devout.
After this introduction to the spirit of this land where time has stood still, guests fly south to board a private luxury catamaran to cruise the Andaman Sea along southern Myanmar and a sliver of the west coast of Thailand. The voyage passes through the Mergui Archipelago comprised of more than 800 islands, 770 of which are uninhabited except for abundant wildlife. The Myanmar government has made this region a priority for conservation management. Here and in nearby Laem Son National Park in Thailand, guests can observe Burmese macaques, one of only three primate species on Earth to have developed a culture of stone tool use.
Transiting the marine border into southern Thailand brings guests to Khao Sok National Park, a karst landscape of vertical limestone mountains draped in the world's oldest virgin rainforest and littered with caves, deep valleys and jade-green lakes. Accommodation here is in a floating "raft lodge" on Cheow Lan Lake, one of the best wildlife-viewing regions in mainland Southeast Asia. Recent camera trap recordings in the area by researcher Mike Clark have revealed extremely rare Malayan tapir, Asian elephant, leopard, guar (the world's largest wild ox) and Asiatic black bear. Clark shares his knowledge of this intricate tropical rainforest ecosystem, one of the most biodiverse ecosystems on Earth, in advance of a guided trek, the last activity before a champagne breakfast on departure day.
Throughout the itinerary accommodations have been selected for proximity to nature and reflection of the culture and spirit of each locale. Among these are an ecolodge perched high on the side of the extinct volcano, 6,000-foot Mount Popa; an overwater resort on stilts, furnished in gleaming teak, on Inle Lake; and an intimate private yacht with six luxury cabins.
Contributing members are responsible for the accuracy of content contributed to the Member News section of AdventureTravelNews.