Feb. 27 is International Polar Bear Day, and Natural Habitat Adventures — the world's leading polar bear tour operator — is encouraging people to join efforts to combat global climate change on behalf of polar bears by putting on an extra sweater and turning down the thermostat.

Small gestures, when multiplied, can count. And reducing the energy expended on heating and cooling, even by a couple of degrees, can make a difference for polar bears.
Natural Habitat Adventures supports the Thermostat Challenge, an initiative of Polar Bears International to draw attention to the challenges polar bears face in a warming Arctic. As sea ice, which the polar bears rely upon to hunt seals, continues to diminish, the bears' hunting season is getting shorter, and their numbers and health are being impacted.
Witnessing polar bears in their native habitat also helps raise awareness of their plight. Nat Hab, a pacesetter in conservation-focused wildlife tours worldwide, runs eight different polar bear-focused trips. Seven itineraries are based in Churchill, Manitoba, often called The Polar Bear Capital of the World. Churchill is home to the Southern Hudson Bay polar bear population, and more bears congregate each fall than anywhere else, making this easily accessible destination the prime place to see polar bears in the wild.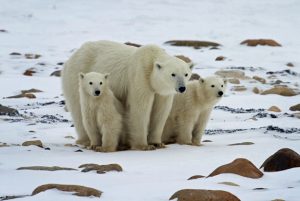 Among Nat Hab's Churchill polar bear tours are the Classic Polar Bear Adventure, the company's flagship tour; the new Churchill Arctic Family Adventure that takes place over Thanksgiving break; photography safaris guided by an Expedition Leader who is both an Arctic naturalist and professional nature photographer; and the Tundra Lodge Adventure where guests stay among the bears in the world's most remarkable rolling hotel—right on the tundra Itself.
Nat Hab has also just announced a brand-new polar bear viewing adventure in Alaska's Arctic National Wildlife Refuge, a photography expedition based in Kaktovik on the Beaufort Sea in August 2017.
The expedition, Photographing Polar Bears in Alaska's High Arctic, debuts with three departures for eight guests each: Aug. 21-27, Aug. 24-30 and Aug. 27-Sept. 2. Similar dates are tentatively set for 2018. The per-person double rate is from $10,895. Guests fly by chartered plane over the Arctic Circle before landing on Alaska's North Slope on the edge of the Beaufort Sea at 70 degrees north latitude. This immersion in the far north provides an unusual chance to witness the impacts of climate change from the frontline while learning about how it is impacting polar bear behavior and challenges to the age-old subsistence lifestyle of local Inupiat people.
Travelers can also look for polar bears in Svalbard, the High Arctic archipelago that belongs to Norway, on an 11-day expedition cruise operated by Nat Hab's partner Lindblad Expeditions. Land of The Ice Bears: An In-Depth Exploration of Arctic Svalbard departs May 29, June 5, 12 and 19 in 2017. In 2018, departures are May 23 and 30. The per-person double rate aboard the 148-guest National Geographic Explorer is from $10,220.
The itinerary is flexible by design in order to accommodate local conditions and pursue prime wildlife watching in the best locations. Guests cruise for six days among the icebergs that drift along Svalbard's rugged coast, utilizing an onboard fleet of Zodiacs to get close to the shoreline and access land for guided hikes. The focus is on polar wildlife, and while polar bears are a top draw, guests will also look for drifting seals, noisy herds of walrus, reindeer on the move and the elegant Arctic fox. Guests travel with Lindblad's staff of Arctic naturalists and polar bear experts.
For information on all of Nat Hab's trips, descriptive itineraries, date availability and reservations, call 800.543.8917 or visit http://www.nathab.com/. Click HERE to order a copy of the 2017 catalog.
Polar Bear Trivia Quiz
In honor of International Polar Bear Day, Nat Hab has created a fun Polar Bear Trivia Quiz. Folks are invited to test their polar bear IQ and see how much they know about the King of the Arctic.
Contributing members are responsible for the accuracy of content contributed to the Member News section of AdventureTravelNews.