Tour Operator Receives Award for Legacy in Travel Philanthropy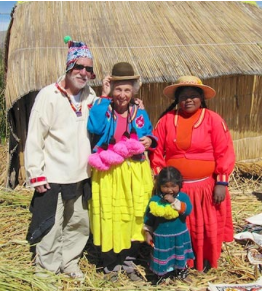 Incline Village, NV — Award-winning experiential tour operator Myths and Mountains is pleased to accept the 2015 Tourism Cares Legacy in Travel Philanthropy award, alongside co-winner, Lindblad Expeditions. The accolade will be presented at the gala awards ceremony taking place at the Conrad Hotel on December 15, 2015, in New York City.
Lindblad Expeditions and Myths and Mountains, companies with two longstanding and outstanding philanthropic efforts, share this year's Legacy in Travel Philanthropy award, sponsored by American Express, which recognizes sustained impact for more than 15 years.
The awards look holistically at the entire corporation, not just individual projects. Written submissions were scored in the following areas: theory of action and execution (e.g. their problem statement, activities, results and illustrative outcomes); community engagement; storytelling, communications and advocacy; integration into their core business; and overall financial commitment.
Mike Rea, chair of the Tourism Cares Awards, said, "The awards celebrate and share the accomplishments of those travel companies and individuals who are as successful in their community care and stewardship as they are in business. Twenty-six nominations were received for the Legacy in Travel Philanthropy." Started by Myths and Mountains almost 25 years ago, the READ Global library and community center model boasts 85 Centers now supporting literacy and education outcomes in Nepal, India and Bhutan, all of which are sustained by locally owned enterprises.
Giving back to the locals in regions where Myths and Mountains travels was a priority for Dr. Antonia Neubauer as soon as the company was founded in 1988. In order to achieve her goal, she established READ Global (Rural Education and Development), a non-profit organization whose goal is to make rural villages viable places for people to learn, live and prosper. READ uses rural library community centers and sustaining business as a catalyst for improving rural education and infrastructure in India, Nepal and Bhutan. Today, READ is a separate 501c3 located in San Francisco, but Myths and Mountains continues to be a major supporter.
Myths and Mountains and READ Global have received several honors over the years that have recognized the many contributions made to improve the lives of people in Asia and the Far East. Dr. Neubauer stated "This award from my peers in the travel industry means a great deal to me; it has been my life's work to help people to understand and utilize their own power and capacity to change their own lives and those of others."
Contributing members are responsible for the accuracy of content contributed to the Member News section of AdventureTravelNews.