The Galapagos Islands have captured the imaginations of millions of adventure-minded people since Darwin's ground-breaking explorations, and MT Sobek today introduced another ecologically-minded and luxurious way to visit the UNESCO World Heritage Site in 2020—marking the company's 50th year operating in the Galapagos Islands.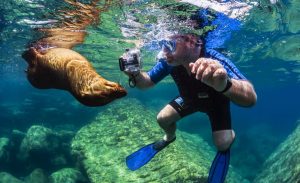 In 2020, the legendary tour operator will be leading tours on a fleet of sleek yachts and catamarans, including the Endemic—a brand-new, Ecuadorian-flagged luxury catamaran. The 115-foot Endemic has only nine cabins, each boasting floor-to-ceiling windows, en suite baths and private balconies. The ship, built in 2018, also features multiple lounge deck areas and a Sky Deck designed for after-tour relaxation that features a bar and lounge, plus a BBQ and Jacuzzi.
"Our primary focus in visiting the Galapagos is preserving the integrity of this incredible ecology," said MT Sobek CEO Kimberly Daley. "With its impeccable design, cutting-edge operating features and conservation-minded, 11-person crew, the Endemic combines premium luxury with a real awareness of the fragility of the islands and our need to tread lightly. It is an excellent addition to our Galapagos fleet."
After arriving via a short flight from Quito to Baltra Island, guests explore the incredible diversity and singular sights of Galapagos high points such as the Floreana Island and Genovesa Island. Supplementing the Endemic are an array of watercraft to interact safely with the local flora and fauna, including SUPs and even translucent kayaks for crystal-clear sea touring. A 7-day scheduled group voyage aboard the Endemic — Galapagos Adventure Cruise Express— departs in November 2020 and costs $8,595.
There are also three other itineraries to choose from including a Classic Galapagos Adventure Cruise (10 days), Galapagos & Amazon Family Adventure (11 days), and Explore Machu Picchu & Cruise the Galapagos (10 days). MT Sobek also offers flexible options for chartering your own luxury cruise on any of the four luxury yachts or catamarans. All of MT Sobek's Galapagos adventures are on 16-person yachts and catamarans with the premier guides who have educated and entertained MT Sobek guests for decades, offering true immersion into this ecological paradise.
Long a leader in Galapagos tourism since its first voyage in 1970, MT Sobek is a renowned pioneer in adventure travel and recently gained recognition as a member of Signature Travel Network. Travel professionals and customers wishing to learn more about Galapagos adventures with MT Sobek, plus view detailed plans and pictures of the fleet, can visit their newly launched Galapagos microsite here.
Contributing members are responsible for the accuracy of content contributed to the Member News section of AdventureTravelNews.