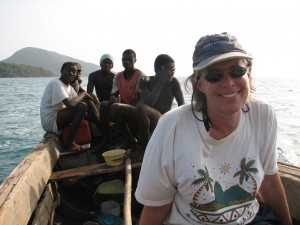 Assistant Editor's Note: The following profile was written on ATTA Member Megan Epler Wood, on Milkshake.
Filmmaker. Author. University Lecturer. Trailblazer. While Megan Epler Wood is all of these things, they don't begin to capture what this incredible woman has accomplished.
Not only did she found The International Ecotourism Society in 1990, she later set out to assist even more institutions and organizations through her consulting firm, EplerWood International. In the world of eco- and sustainable tourism, she's a superhero.
Through her work, Megan has seen the potential for tourism to drive positive social and environmental change even in the most dire situations, like that of Sierra Leone following its decade-long civil war.
"I was very skeptical, but when I went, there was potential," Megan said. "It's a beautiful country. The people are so kind and generous despite everything they've been through. It was a really moving experience."
These days, Megan sits in the director's chair at Planeterra, a not-for-profit working to help people help themselves in the places like Asia, Africa and Latin America.
"We want to be sure the communities are ready and prepared to manage visitors and tourism, and when they can, boy it's just great." –Megan Epler Wood
We have no doubt she'll succeed.