This year, the theme for International Women's Day (IWD) on Mar. 8, 2020 is #EachforEqual, noting that gender equality is "essential for economies and communities to thrive."
As tourism is widely considered to improve cultural understanding, introduce new economic opportunities and incentivize environmental conservation in local communities, the idea that gender equality is key to these successes is no great surprise.
And while the UNTWO's 2019 follow-up on the Global Report on Women in Tourism found that women continue to make up the majority of the tourism workforce but remain "concentrated in low-level employment" and earn 14.7% less than men, it also determined that:
more women are challenging gender stereotypes and assuming roles once dominated by men such as tour guides, and
women around the world have developed collective community-based solutions to address the impacts of tourism.
In the name of #EachforEqual and the continuation of challenging gender stereotypes for greater community growth, here are just a handful of incredible adventure guides—and community champions—who are working to ensure tourism has a positive impact on the places they call home:
Karen Nutarak
Community Liaison + entrepreneur
Adventure Canada
Karen Nutarak grew up in the "Jewel of the Arctic," Mittimatalik (Pond Inlet) in Nunavut, Canada—a community of 1,700 people, the majority of whom are Inuit, and a port of stop for Arctic cruise ships. Now a community liaison and entrepreneur, Karen worked as a cultural performer in the 1990s, sharing Inuit culture with cruise ship passengers. She remembers seeing the visitors step onshore, take photos, walk around—and never really interact with the residents.
"I always thought about how great it would be if there were activities available—a way to share our knowledge and culture with visitors—and make friends," she recalls.
In the early 2000s, while managing the Mittimatalik visitor center, Karen met Matthew Swan, one of Adventure Canada's original founders, who wanted to organize a baseball game between his passengers and the local community. The event was a hit for visitors and residents alike, and since then, Karen has worked with the expedition-style cruise company to coordinate immersive interactions between expedition guests and Mittimatalik community members—and to give her community a voice of its own. Activities include cultural performances like Inuit throat singing, traditional storytelling, nature walks and of course ball games.
Karen's Community Connection:
"Often, visitors to Mittimatalik don't understand [who we are as Inuit people]. They don't have the opportunity to interact with anyone except the cultural performers. They take pictures without asking questions. This makes the residents think that they don't care.
"I'd like to see more tour companies make an effort to facilitate personal interactions between tourists and the community in the way that Adventure Canada does, and I also want visitors to think outside the box [when it comes to their perceptions]. Don't just believe what you read, what you hear, or what you see about us or Nunavut in the news. Come up here and get to know us."
Future Goals:
"I'm in the process of starting up my own business, Atii (Let's Go) Tourism, which will offer packages that allow visitors to connect with the local people in creative ways, such as igloo overnights, dinner with Inuit families, traditional storytelling, coffee with Inuit Elders, birdwatching, cultural performances and wilderness trips.
"I've been thinking about this idea for the last 24 years and was recently motivated by a Travel Nunavut workshop to pursue the project. People keep saying there are lots of opportunities [for cultural tourism] in Canada, and I think the Mittimatalik community has so much potential. I'd like to be part of that."
What IWD Means to Karen:
"This day is about celebrating a woman's life. A woman is a strong person; we go through so much in life, and I think it's a good way to celebrate our stories and encourage women to seek out opportunities in the world."
Ana María Piedrahita
Director of Experiences + coffee aficionado
True Colombia Travel
When asked how she started leading tours into rural Colombia, Ana María Piedrahita replies that it was almost by accident. A journey that started out as a love for coffee culture turned into a passion for sharing it with travelers, and Ana ended up linking her coffee tour work with True Colombia Travel.
"This was when my perspective for how tourism could impact local economies started to expand," Ana says.
Today, Ana is a partner and Director of Experiences at True Colombia Travel, a locally-led tour operator which works to showcase the people, heritage, culture and natural treasures of Colombia by working closely with communities and neighborhoods in less-visited corners of the country—and collaboration with residents is a top priority. From partnering with local initiatives to building immersive experiences with residents of remote villages in rural Colombia, Ana and her team know that when travelers and local communities connect, great things can happen for the destination.
Ana's Community Connection:
"I'm particularly proud of the partnership we have with the Amadeus Foundation. Amadeus takes classical music instruments to at-risk youth communities and teaches them to channel their energy into music. The program started in 1999, in one of the most dangerous neighborhoods in Medellin at the time.
"Today, we visit one of the music schools and our travelers are able to sit in at rehearsals and ask the students questions about their music. This memorable experience often leads to our travelers donating funds to the program, which in turn means greater support and resources are going back into these communities. Everyone wins!" 
Future Goals:
"Travel companies need to ensure they're working directly with, not on behalf of, the community. Tour companies can always do a better job of listening to the community, hearing their challenges and strengths, and the goal of a partnership should always be economical and societal improvements, based on what the people themselves feel they need. It has to go both ways, and always be rooted in dignity, empowerment and respect.
"As for me, I hope to continue developing more travel experiences on Colombia's Pacific coast. This is a beautiful and diverse region that has largely been forgotten by the state yet remains largely untouched by violence or poverty." 
What IWD Means to Ana:
"International Women's Day is a day about empowerment, in which women across the world are recognized and encouraged to dream, pursue our goals, and keep fighting for equality—which is especially important in countries where women don't always have a say."
Alicia Peter
Kilimanjaro Mountain Guide + original Ngumu porter
Exodus Travels
Ten years ago, it was unheard of to have a female porter bringing groups of travelers up Mount Kilimanjaro. When Alicia Peter joined a group of women leading the way to join the tourism workforce as part of Exodus Travels' Porter Project, it wasn't easy. Even with Exodus sponsoring the initiative through training and hiring practices, female porters on the mountain were not accepted by the status quo as an appropriate vocation.
"When we first started, there were a lot of men who would give us a hard time because they thought we couldn't do the job," Alicia says. "They would say: 'You are only a woman and don't have the strength of a man. Your job is to have children and you're trying to do the job of a man.'"
But "ngumu," the Swahili word used for porters, translates to "tough," and Alicia and her female colleagues persisted in their roles, carrying the same amount of weight (50 lbs) as their male colleagues up the mountain. Today, women porters make up 18% of the sector's workforce—a number steadily growing as the stigma toward working women continues to evolve thanks to trailblazers like Alicia.
Alicia's Community Connection:
"I've seen the opportunity to work as ngumu result in greater confidence for women in my community, and we feel stronger. We all work together to achieve the same goal as one team, and the women experience more respect as professionals.
"As a result, more women are applying for work as porters and are taking lessons to improve their English-speaking skills so they can do more in their careers."
Future Goals:
After working as a porter in high season and applying to improve her English language, customer service and first aid skills, Alicia is now a full-fledged guide, leading groups up Mount Kilimanjaro. She hopes to see more women joining the workforce as porters and guides in the future.
"There are more and more opportunities to become guides and porters for women now as more companies are hiring. Travel companies are looking for female guides more often, and offering lessons to improve their English-speaking and guiding skills."
What IWD Means to Alicia:
"It's good to see women getting more respect, and I'm proud to be part of that."
Georgia MacMillan
Adventure Guide + stargazer
Wilderness Ireland
Georgia MacMillan is all about introducing people to the beauty of the Irish hills. After working as a guide in Ireland for nearly 20 years, Georgia moved to County Mayo to get closer to nature. Armed with an honors degree in Outdoor Education and a Mountain Leader Award, Georgia now leads tours for outdoor travel company Wilderness Ireland. She's also passionate about Ireland's nighttime skies, and can often be found stargazing and working to share the Mayo International Dark Sky Park with the world.
"Engaging communities in visitor development plans is crucial for the longevity and sustainability of the tourism for any region," she says. "Today, Mayo's community has an increased sense of pride in the region as a winter attraction and are keen to learn more about science engagement and protecting the night sky as a habitat."
Georgia's Community Connection:
"Over the last few years, I've been involved with the Mayo International Dark Sky Park. Through research and community engagement, this work led to an application for dark sky status in 2016; meaning that our nighttime skies were sufficiently free from light pollution—and could be awarded a gold tier award for their quality and darkness.
"Since that accreditation, our community groups have established an annual Dark Sky Festival which now runs over three days in late October/early November. This used to be the quietest time of the year, but now we have a stream of visitors enjoying experiences such as stargazing, science talks, nocturnal nature walks, storytelling art workshops and astrophotography—all things related to the night sky."
Future Goals:
"I find myself transitioning into environmental project work through my voluntary community roles. For example, I am currently exploring the potential for a UNESCO Biosphere Reserve to be established in our region. I see this as a future framework for sustainable tourism programs to benefit both community and environment and generate opportunities for research, education and training for local people."
What IWD Means to Georgia:
"As a female guide, International Women's Day is a chance to reconnect with some of the amazing women travelers I have had the pleasure to meet.  Over recent years, I have guided on some female-only led trips which have fostered friendships through shared experiences and many of them keep in touch."
Ryoko Aosaki
Trip Leader + mountaineer
Oku Japan
Ryoko Aosaki has always felt that personal connections in natural spaces are what makes an outdoor adventure truly memorable. That's why the mountaineer-turned-trip leader began leading walking tours for Oku Japan, which offers sustainable guided, self-guided and custom tours exploring remote regions of the country.
"I feel that it is my mission to serve as a bridge to connect local people to travelers," Ryoko says. "So when I first heard about Oku Japan, it was that they had the trust of the local communities they were operating in and were working together and growing with these communities. This really appealed to me."
The Nakasendo region of Japan saw a lot of growth from the 17-19th centuries, but today, communities are experiencing depopulation as young people tend to pursue opportunities in cities and abroad instead of carrying on family businesses. Oku is seeking to change that by using tourism as an economic incentive, and Ryoko is part of the charge.
Ryoko's Community Connection:
"When large numbers of people visit very briefly, ignoring the local people and coming and going like a storm, there is no lasting opportunity or benefit to the community. I love taking travelers to experience traditional cultural experiences with locals first-hand on my tours. It's a much more intimate and meaningful experience than simply passing through, and visitors tend to return home and encourage other travelers to visit, too.
"This renewed interest has shown young people that there are opportunities in their home villages, so they're coming back to start businesses of their own."
Future Goals:
"I want to continue to create chances for young people to really experience the outside world, rather than through a book or virtual reality games. My aim is to help travelers break out of their daily routines and do something that will truly enhance their lives."
What IWD Means to Ryoko:
"In the world of mountain-guiding, especially in Japan, there are very few women doing this. International Women's Day gives me courage knowing that there is support for other female travel professionals pursuing their goals in this field."
Naomi Lindfield
Cycling Guide + head honcho of Skedaddle Italia
Saddle Skedaddle
Having spent the last 20 years as a cycling guide based in Sardinia, Italy, cycling expert Naomi Lindfield knows what developing shoulder season tourism can mean to a local community. Since she was young, Naomi has been passionate about riding her bike around the Sardinian countryside and knows it like the back of her hand.
"As a child living in the countryside, I loved to study and explore, so when I was eight, I planned a cycle trip from Sardinia to England, working out routes, things to see—even a budget," Naomi says. "I didn't know I was planning my future profession!"
After recognizing a need for off-season and outdoor tourism offerings, Naomi joined forces with Saddle Skedaddle to offer Sardinia, Italy to cycling travelers as a mountain biking destination – which meant introducing a whole new source of income to the island.
Naomi's Community Connection:
"When I started leading cycling holidays in Sardinia in 2001, tourism was all about summer beach holidays—and restricted to two to three months of the year. No one was offering biking tours, and cycling would allow people to explore the interior of Sardinia in spring and fall, see a more authentic side of the island—and provide livelihoods in those 'lower seasons.' So, with Skedaddle, I started offering biking holidays in spring and autumn, convincing accommodation providers to open earlier in the season and stay open later.
"Now in Sardinia, the season starts in April and ends in November; more accommodations have opened up in the interior and secondary services such as bike hires have opened for business. Because of demand, more people have moved into this profession; there are over 1,000 registered professional outdoor tour guides in cycling and walking."
Future Goals:
"There is still a lot tourism can do when working with local communities, especially from an environmental point of view. Local communities can be better educated about the importance of environmental conservation for example. Helping the local people and policymakers to see our environment through the eyes of a traveler can help open minds to what changes are needed to protect what we have.
"For example, dumping rubbish in isolated areas along the roads is still common in certain Italian regions, which is part of civil culture, but local administrations also fail to address the issue. Tourism organizations can help by dialoguing with local administrations to find solutions."
What IWD Means to Naomi:
"To recognize, value, voice and celebrate the presence of many women who have contributed to the development of the travel sector; leaders and supporters who have made a difference, who have influenced and changed people's lives."
Josy Cardoso
Expedition Leader + sustainability advocate
Natural Habitat Adventures
Before graduating from school in Puerto Ayora, Ecuador and leaving for college, Josy Cardoso's mother sent her on a cruise around the nearby Galapagos Islands. The contact with nature, learning from her guides, walking through the lava fields and swimming with sea lions made Josy fall in love with the place she was leaving, and inspired the future naturalist guide to dedicate her life to showcasing the islands. Fifteen years later, Josy is an Expedition Leader for responsible wildlife outfitter Natural Habitat Adventures and works to actively encourage the people she guides to be more mindful of their responsibility to the planet.
"One of my greatest achievements has been inspiring travelers to be more conscious of minimizing their impact on the areas they visit," Josy says. "I encourage them to consider the way we live and how we can reduce our impact in big ways with just small, daily actions like using water bottles instead of plastic bottles; being more careful of what we eat or buy, etc."
Josy also believes that tourism is central to the sustainability of the Galapagos because she has seen the effect exploring the incredibly biodiverse region can have on travelers—and subsequently, on the local communities.
Josy's Community Connection:
"
Tourism in Galapagos has definitely had a positive impact on the community. After experiencing our natural wonders, visitors often return home and facilitate strategic alliances between foreign universities and our local institutions. Thus, scholarships for local people and donations are obtained for different conservation and social programs, all thanks to travelers' interactions with the local people.
"Traveler interest in the destination also lends incredible value to our natural resources, which incentivizes everyone to prioritize environmentalism overall. One example is that fishermen here now understand that live sharks bring much more money than dead ones. That's huge progress."

Future Goals:
"In the next five years, I want to be leading expeditions in other destinations apart from Galapagos and Baja California. I will also obtain the National Association for Interpretation COACH certification and remain involved in projects that benefit the community."
What IWD Means to Josy:
"It means that women are finally being recognized as an important part of the pyramid; needed to make this world work. We respect that we all need to be part of the team in order to have a successful life, career and family—and women are the keystone in all this.
"As a woman in Ecuador's 'macho' male-dominated society, you have to prove that you are able to accomplish the same things that they can, and you have to accomplish them much better than them as well.
"But I have succeeded, and if I had to choose my career again, I would do it again in a heartbeat."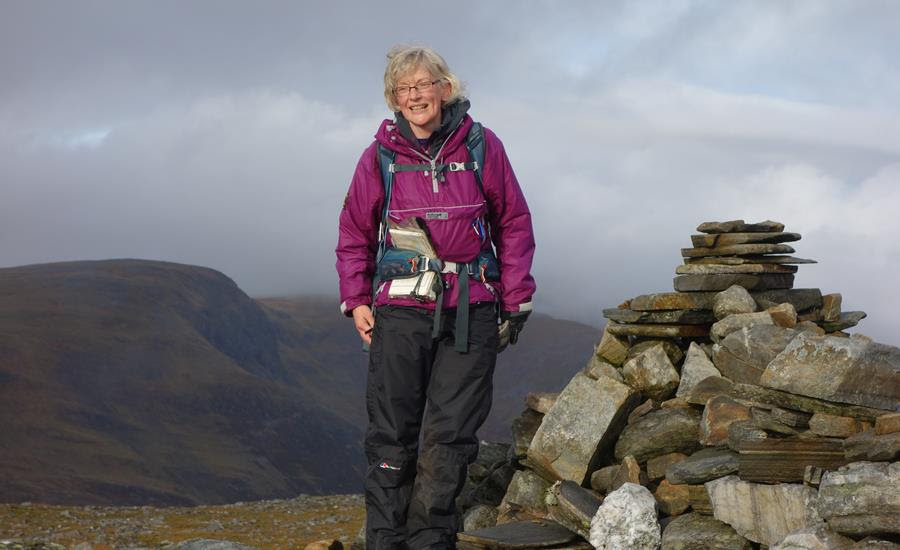 Gill McMillan
Adventure Guide + Leave No Trace activist
Wilderness Scotland
While Gill McMillan may have grown up reading the adventure stories of Dervla Murphy, Anne Mustoe and Christina Dodwell, she didn't actually find her own footing as an explorer until about 10 years ago, when the death of her partner led her to become reacquainted with wilderness walking.
"At the beginning, I didn't walk so much as stomp across the hills," Gill says. "But I was keen to learn more about this wonderful world of the outdoors: rivers, open moorland, mountain tops."
Gill signed up for a Mountain Leader course, and works today as an Adventure Guide for leading outfitter Wilderness Scotland, leading travelers into the great outdoors—and shining a spotlight on Scotland's less-visited hamlets.
Gill's Community Connection:
"When I'm in Harris in the Western Isles, I often take groups to the Sellam! Visitor Centre in the village of Northton. To call it a visitor center might suggest that the contents are aimed solely at tourists, but this is far from the truth. The curator, Bill, has a passion for the genealogy of the people of Harris, Lewis and the St Kilda group of islands. Yes, there are photos and descriptions on the walls but there's also a display that covers various aspects of life in these remote and wind-swept isles.
"The reason I take groups there is to experience the passion that one man's life's work can achieve."
Future Goals:
"In five years, I hope to be teaching more navigation skills and sharing the Leave No Trace message with not just outdoors folk but with the wider public. As someone who is in middle-aged, in 10 years I hope to still be working and sharing this amazing country with visitors. There's always something new to learn and share: a song; a piece of folklore; a visit to an evocative site.
"But my greatest passion will always be to share this land with people who are yet to discover it." 
What IWD Means to Gill:
"I'm glad that events like International Women's Day allow women to share their stories. The younger women I meet now are far more active and adventurous and in greater numbers than in days gone by, yet older women are still scaling mountains, kayaking, running and climbing as they always were.
"We can all support them by reading their blogs, going to our nearest mountain film festival and cheering them on. They inspire me."