LatinVision Media Announces "Marketing to Latinos" Conference Series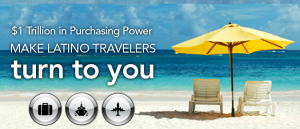 New York, NY – LatinVision Media, an operator of business portals serving the U.S. Hispanic and Latin American entrepreneurs, business owners and executives in small to medium-sized companies, today announced its 2011 Marketing to Latinos Conference Series aimed at helping marketers reach and engage US Hispanic consumers and businesses.
In partnership with Business Wire, Business Wire LatinoWire and NetStairs, LatinVision Media will host four industry-specific sessions, beginning with "Marketing to Latinos Travel, Tourism and Hospitality Conference" on February 24, 2011 in New York City. Other sessions include Sports, Latinas, and Banking/Finance.
"The Census of 2010 results will confirm the U.S. Hispanic Market is the most attractive one for advertisers and marketers with a purchasing power above one trillion dollars," said Carlos Vassallo, CEO of LatinVision Media. "The exponential growth of the Hispanic Market as a segment is changing the rules forcing marketers to change their approach, strategy and tactics if they want to maintain their share in the business. The approach used 10 years ago is no longer relevant neither effective. This is our second series edition, this year the main focus will be on these changes and how companies and individuals can use these changes to engage this audience in a proactive, interactive and unique way.''
The conference series will feature panels and presentations in the morning and after work sessions in the evening for networking and one-on-one exchanges. As with all LatinVision events, there is a dedicated website for each event where attendees can find detailed information, including conference schedule, registration, program and other details. Each conference will be will be live streamed and profiled in social networks and a Business networking event will follow after in the afternoon.
To learn more about the conference, to register and sponsor: www.latinvision.com/conference/travel and www.latinvision.com/conference/travel/mediakit.pdf