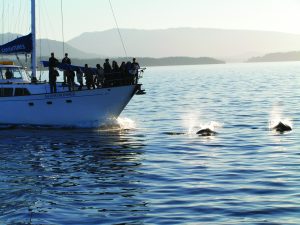 Adventure travel specialist Great Canadian Trails applauds the Canadian federal government's new protections for rare glass sponge reefs found on British Columbia's (BC) northern coast. Announced earlier this year, the designated Marine Protected Area consists of three sites between Vancouver Island and the archipelago of Haida Gwaii and bans any activities that might hurt or destroy the animals. 
"Getting into nature is popular among travellers and preserving that environment is important," said Keri May, Operations Manager at Great Canadian Trails. "As part of a company that is committed to animal protection and sustainability, we're thrilled to see the federal government step up to protect such a globally unique habitat."
Known as the "Galapagos of the North', the more than 100 islands that make up the Haida Gwaii archipelago are a unique bio-cultural zone with many endemic plants and animals. Indeed, the glass sponges build skeletons out of silica, the main component of glass, to filter water and provide a vital marine refuge, habitat and nursery grounds for a range of aquatic species, including Pacific salmon, finfish, shellfish and the endangered rockfish. They are the only large, living reefs of their kind. 
Though the region is rarely visited, it remains a highly coveted travel destination. Great Canadian Trails offers a fantastic itinerary for adventurers with high expectations on their quests to explore the country's remote Pacific Northwest coast. 
Haida Gwaii Adventure
Reaching the archipelago by boat on board a small, 68-foot yacht, travellers can expect to see a range of wildlife including humpback whales, dolphins, orcas, sea lions, black bears and a variety of bird species. The isolated islands offer pristine wilderness where experienced naturalists and crew provide insights into the surroundings as well as the history and customs of the Haida people. Travellers will explore the Gwaii Haanas National Park Reserve, see the best remaining original totem poles in the world, and visit Hotsprings Island all while contributing to increased conservation and research.
Contributing members are responsible for the accuracy of content contributed to the Member News section of AdventureTravelNews.