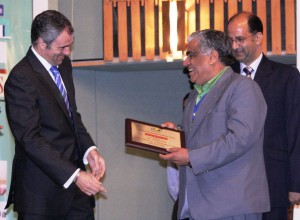 Capt. Swadesh Kumar, Managing Director, Shikhar Travels, received Life Time Achievement Award from Adventure Tour Operators Association at their 9th Annual Convention held in Srinagar, India. He has been honoured for his outstanding contributions in the field of adventure tourism in the country. He received the award from Hon'ble Chief Minister of Jammu & Kashmir Jenab Omar Abdullah during the inauguration ceremony of the Convention on 12th September, 2011.
Capt. Kumar is the Founder President of ATOAI, which plays a significant role in promoting adventure tourism in India, and has been recognized by the Ministry of Tourism as the prime body of the Indian adventure tourism industry.
Capt. Kumar's interest in Trekking and Climbing Expeditions started in 1969 when he joined the Delhi Mountaineering Association (DMA) as a member. From the very beginning of his career(1974 – 79), he has promoted and pioneered many routes and trails. One striking example of his breaking new ground, is the fact that he was the first person to promote Camel Safaris for foreign tourists in the Thar deserts of Rajasthan.
Capt. Kumar founded Shikhar Travels, with the idea of promoting adventure tourism, especially mountaineering and trekking. Today, Shikhar Travels is a name to reckon with in the field of professional adventure tourism, and ranks among the very top and most respected Indian adventure tour companies for organizing climbing and trekking expeditions to the Indian Himalayas. Shikhar Travels has organized and guided over 250 climbing expeditions to the Indian Himalayas.
Though, Capt. Kumar's achievements are laudatory, he now wants to do 'more' for himself, his family, his business, and for what's closest to his heart – the Indian adventure tourism industry. He wants to 'contribute' further and render assistance where it really matters.For this, he started the Shikhar Eco Foundation for cleaning and preserving of the Himalayas.
Contributing members are responsible for the accuracy of content contributed to the Member News section of AdventureTravelNews.