Discover Italy by bike thanks to crowdfunding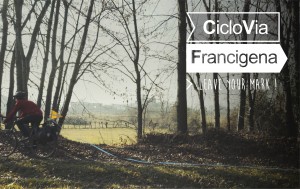 CicloVia Francigena: a simple yet fantastic project to create the longest signposted cycle route in Italy, made possible thanks to the power of crowdfunding.
The CicloVia Francigena project has officially launched on the crowdfunding platform, Eppela. The aim is to gather enough funds to place signposts along the Italian stretch of the Via Francigena cycle route, creating a route that will allow cyclists and holidaymakers from all over the world to travel through the heart of Italy, from the Alps all the way to Rome. The project includes route planning and the placing of over 3000 signposts during a 1000 km journey.
The Via Francigena footpath has recently been cleared and newly signposted, although many sections are not suitable for cyclists. A possible cycling route has been established GPS, but this 1000 km route is not clearly marked. Placing over 3000 signposts would make the Ciclovia Francigena the longest signposted cycle route in Italy.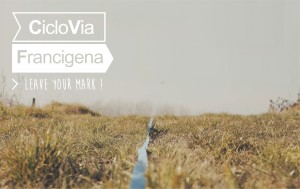 This project is organized by Slow Travel Network and is currently being promoted on crowdfunding site, Eppel, where the group are hoping to raise enough funds to complete the project. The CicloVia Francigena would be an amazing resource for Italian bike tourism and a real boon to local communities, who would benefit enormously from the increased tourism that this simple yet fantastic project would generate. What's more, the Pope has declared 2016 a Roman Catholic Jubilee year, which is likely to mean many more people travelling on European pilgrimage routes and is a great opportunity to raise awareness of the Via Francigena – which leads to Rome and the Vatican itself. In medieval times, the Via Francigena was travelled by millions of wayfarers and pilgrims, all crossing Europe from Canterbury to Rome. In recent years, it has undergone a real revival, with more and more people rediscovering and enjoying the stunning Italian section of the route.
The CicloVia Francigena project has been selected for co-funding by Unipol Sai FutureLab: if the project reaches its crowdfunding target, FutureLab will provide 50% of the funds required. The crowdfunding campaign launched on Eppela on 11 January and will run until 19 February.
The aim of CicloVia Francigena is to promote cycling on the Via Francigena. The project is organized by Slow Travel Network: a cultural communications group that evolved out of Movimento Lento. Movimento Lento has been promoting slow travel – by foot and by bike – for years and is joined in the CicloVia Francigena project by Itineraria, Ciclica, S-Cape Travel and Sloways. Together, they have vast experience in the fields of communications, the tour operator sector and cultural events organization – such as the Slow Travel Fest. These groups form a network working in partnership to spread the culture of slow travel by foot, bike or with any other sustainable means of transport, in Italy and around the world.
Contributing members are responsible for the accuracy of content contributed to the Member News section of AdventureTravelNews.