Bolivia's burgeoning capital opens its first five-star design hotel as Aracari launches a new programme of exclusive travel experiences in La Paz.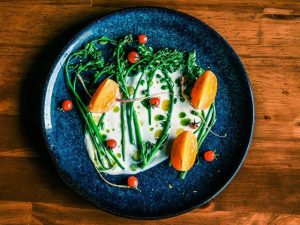 La Paz is the gateway to Bolivia and for travellers heading to the famed Salar de Uyuni salt flats, a short flight from the capital. Now, thanks to new offerings in the city, bespoke Bolivia travel specialists Aracari have singled out La Paz as the region's next hotspot for stylish explorers.
Brand new high end accommodation and exclusive insider experiences deliver new opportunities for discerning clientele to get off the tourist trail in Bolivia's untapped capital city. Furthermore, recent advancements in the development of infrastructure benefit tourism, including the 2016 launch of newly paved roads to Uyuni and the Amazon, that allow faster and more comfortable journey times than ever before. The Government's aim is to attract 7 million visitors to Bolivia annually by 2020, up from 3.1 million in 2014 (Financial Times).
New Design Hotels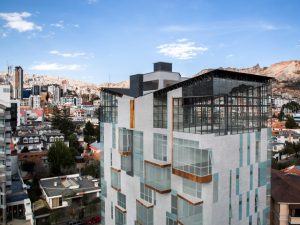 Part of the Design Hotels collection, the sleek new 53-bedroom Atix recently opened its doors in September 2016. Housed within a modern stone-fronted parallelogram-shaped building designed by Stuart Narofsky, the hotel is set to diminish preconceptions that La Paz caters purely to backpackers.
World-renowned Bolivian artist Gastón Ugalde, has developed an exclusive series of artwork for display throughout the hotel. Its interiors, masterminded by Jennifer Rusch, are inspired by Bolivia's rich topography, with each of the hotel's six floors representing a different ecosystem; Amazon, Salt Flats, Lake Titicaca, Mountains, Lípez Desert and the Valley of the Spirits.
Furthermore, a new high-end boutique hotel, Altu Quala, is set to open in downtown La Paz in 2017 adding to the trend of increasing luxury travel offerings in La Paz.
New Gourmet Dining in La Paz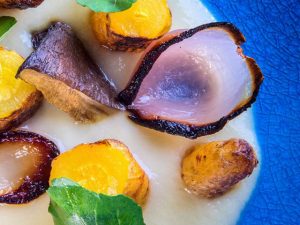 Ali Pacha: A plant-based restaurant showcasing under-used produce and championing micro-producers from around Bolivia, Ali Pacha opened in March 2016 to much acclaim. This new addition to the food scene is sure sign that the country's capital is making fast headway in its top-notch dining offerings.
Bronze Café: Also new on the scene in 2016, the Hierro Brothers have opened Bronze in the historic centre, within the building of their new Altu Quala design hotel. It's the first bar in the city to focus entirely on coffee, using their own Bolivian coffee roasts and blends. It transforms into a trendy, urban cocktail bar at night. More than two-dozen antique bronze beds have, among other objects, been deconstructed and repurposed to build the foundation of our bars design, with the cafe taking its name from these antique objects that have been integrated into the fundamental design.
Atix's restaurant, Ona, has an innovative gourmet menu offering an eclectic mix of ultra-local, seasonal cuisine with an emphasis on reinterpreted Bolivian dishes using traditional ingredients and cooking methods.
Gustu restaurant: Food entrepreneur Claus Meyer's restaurant is an unmissable culinary experience in La Paz. Aracari can arrange intimate dining at the 'chef's table', with the restaurant's Danish head chef, Kamilla Seidler.
Unique activities in La Paz with Aracari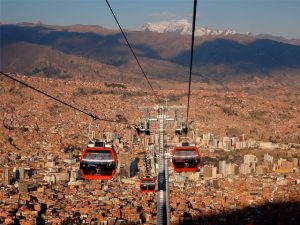 For an even more adventurous experience of La Paz's food scene, Aracari has developed a unique 'Urban Eats' tasting tour, which includes browsing through markets, sampling Bolivian street food and local fare, including stops along the Suma Phayata street food circuit, which was developed by Gustu to help local entrepreneurs.
A must-visit site to appreciate Bolivia's rich cultural heritage is a visit to La Paz's Ethnographic Museum. Aracari can facilitate special insider visits with the museum's Director, Dr Elvira Espejo, who is a textile expert, poet, singer, anthropologist and proud Aymara, whose goal is to preserve and promote Bolivian heritage.
Cholet Architecture: No trip to La Paz is complete without a visit to El Alto by cable car, La Paz's new public transportation system. Aracari has launched unique new experiences that take a ride to the now famed Cholet buildings of El Alto.
In celebration of the exciting shifts for the tourism industry in La Paz, Aracari Travel is offering a special 8-day itinerary 'Bolivia: Salt flats and Silver', taking visitors on an adventure through Bolivia, including La Paz, Lake Titicaca and the Salar de Uyuni salt flats.
Contributing members are responsible for the accuracy of content contributed to the Member News section of AdventureTravelNews.