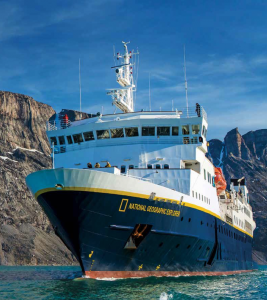 New York, NY – Lindblad Expeditions-National Geographic has announced the guest speakers in their Global Perspectives Program aboard the National Geographic Explorer for the 2015/2016 season. Drawn from the top tiers of journalism, science, and world affairs to add relevant insights, the Global Perspectives Speakers have been chosen to share the expedition experience as active participants and fellow travelers, which allows guests to hear them in the context of their lounge talks, and to spend time with them throughout the voyage while cruising in a Zodiac, on a hike, or during dinner.
Depending on the expedition, guests can explore with a National Geographic Explorer-In-Residence; a scientist doing research in the region they are voyaging, an author, a foreign dignitary, or even a former head of state. A partial listing of the special guests include:
Jared Diamond:  A professor of geography at the University of California, Los Angeles, Jared is the author of Collapse: How Societies Choose to Fail or Succeed and the widely acclaimed Guns, Germs, and Steel: The Fates of Human Societies, which won him a Pulitzer Prize as well as Britain's 1998 Rhone-Poulenc Science Book Prize. Antarctica, February 14, 2015
Barry Lopez: Best known as the author of Arctic Dreams, for which he received the National Book Award, he has authored 14 books of fiction and nonfiction.  Among his other books are About This Life and Of Wolves and Men, a finalist for the National Book Award.   Arctic Svalbard, June 8, 2015
Alasdair McGregor:  Writer and historian, he wrote the definitive biography of the renowned expedition photographer/adventurer on Ernest Shackleton's Imperial Trans-Antarctic Expedition, Frank Hurley: A Photographer's Life.  Antarctica, South Georgia & the Falklands, November 7, 2015; Antarctica, November 27, 2015.
César Gaviria: Former President of Columbia, César Gaviria is known throughout Latin America as an advocate of democracy, staunch supporter of regional integration, and defender of human rights.  An engaging and insightful speaker, President Gaviria will return to the National Geographic Explorer to welcome guests to his country and introduce them to the economic and political climate of Latin America. Coastal Treasures from the Panama Canal to Peru, September 27, 2015.
Captain Alfred S. McLaren: Capt. McLaren has explored beneath the Arctic ice on numerous expeditions, the last as commander of his own sub.  After retiring from the Navy in 1981, he earned a Ph.D. in polar studies and focused his research on the Arctic's role in climate change.  President of the American Polar Society and Honorary Director and President Emeritus of the Explorers Club, in 2012 he received The Explorers Club's highest honor, The Explorers Club Medal. Norway's Fjords & Arctic Svalbard, May 19, 2015.
Edward J. Larson: Pepperdine University professor and Pulitzer Prize-winning author, Edward Larson's latest book, An Empire of Ice: Scott, Shackleton, and the Heroic Age of Antarctic Science, places the famed voyages of Norwegian explorer Roald Amundsen, his British rivals Robert Scott and Ernest Shackleton, and others in a larger scientific, social, and geopolitical context, much enlivened by his own Antarctic travels. Antarctica, January 7 & 17, 2015.
Gil Grosvenor:  Grosvenor serves as Chairman Emeritus of the National Geographic Society's board of trustees and its Education Foundation, as well as an Honorary Director of the Explorers Club. He retired in 1996, as President of the Society—the fifth generation of his family to serve in that position.  Canadian Maritimes, September 11, 2015.
Dr. Joe MacInnis:  Dr. Joe MacInnis is the first person to explore the ocean beneath the North Pole.  He led ten research expeditions under the Arctic Ocean to develop the systems and techniques to make scientific surveys beneath the polar ice cap.  His teams built the first undersea polar station and discovered the world's northernmost known shipwreck.  Antarctica, January 6, 2016.
Peter Hillary:  Peter is the son of Sir Edmund Hillary, the first man to summit Mount Everest along with Tenzing Norgay. Peter has climbed the highest mountain on every continent, including Mount Everest, and established a new overland route to the South Pole. Antarctica, February 6, 2015; Antarctica, South Georgia & the Falklands, February 16, 2015.
Fen Montaigne: Journalist and author of Fraser's Penguins: A Journey to the Future in Antarctica, Fen has long studied the impact of rapid warming.  His work has appeared in National Geographic, The New Yorker and others. Svalbard, Iceland, Greenland, June 22, 2015.
David Doubilet: Acclaimed leading underwater photographer David Doubilet has produced more than 70 stories for National Geographic magazine.  In 2010 he was part of the Elysium Project, a team of explorers who followed in the footsteps of Sir Ernest Shackleton from the Weddell Sea to South Georgia, documenting the current state of this last pristine wilderness.   Antarctica, South Georgia & the Falklands, February 15, 2016.
Contributing members are responsible for the accuracy of content contributed to the Member News section of AdventureTravelNews.