By Chris Chesak, VP of Business Development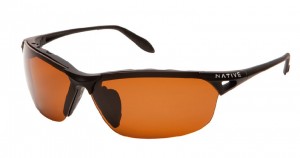 When I first put on Native Eyewear's Vigor sunglasses, I noticed two things: the snug, very secure feeling of the fit, and the impressively light weight.
I immediately felt confident that they were a very solid eyewear option that wasn't going to fly off during any rigorous activity – or during pursuits that are less active, but perhaps far sweatier (like sitting in a jostling safari vehicle looking for game). And thus far, they've proven to hold up very well in both situations.
The rubber contact points behind the ears feel just grippy enough to be secure, without being sticky, while the ample notepads do the same. These contact points working in conjunction with the slim profile and snug wrap of the frame provides the secure fit.
The slim profile fits very well around my face with complete coverage of the ocular area and the light weight makes them excellent for running, for which I immediately started to use them.
Another feature that makes them great for aerobic activities is their ample venting, including spaces just behind the lenses, some additional vents on the top of the frame, and one more on each temporal area.
The glasses also come with a pretty bomber (but not bulky) case, that includes storage space for the additional set of Sportflex interchangeable lenses, which are provided for low-light conditions such as dusk, overcast skies, etc. Interchanging the lens was very simple and Native provides instructions on their website for changing lens for each of their frame systems.
Another nice touch is the inclusion of a soft bag for storage that also doubles as a lens cleaner.
Criticisms of the Vigor are few, if any. Their snug fit and minimal frame made some people think they looked too small for my face (even though the Native website notes that these glasses are sized for larger heads). And these are straightforward, functional outdoor eye protection. If you are looking for flashy style, these are not your specs.
Overall, the combination of light weight and excellent fit make these glasses a great option for the active adventure traveler.
For more information: http://www.nativeyewear.com/style/view/32